The 16 young people we represent in Held v. State of Montana made history with their colossal win in August. Then recently, as expected, the State of Montana filed their notice of appeal. 
We are now preparing to present our arguments to the Montana Supreme Court on behalf of our young clients and we are confident that Judge Seeley's ruling will be upheld! Once the Montana Supreme Court rules, that will be the final word because state constitutional cases like this don't go to the U.S. Supreme Court.
In an exciting update, we have made progress in our youth-led case in Utah, where we have submitted our opening brief to the Utah Supreme Court. Alongside our brief, several other groups have submitted amicus curiae, or "friend of the court," briefs. These groups include the ACLU and ACLU of Utah, the American Academy of Pediatrics – Utah Chapter, Voices for Utah Children, Utah Moms for Clean Air, Utah Physicians for a Healthy Environment, and a group of 37 law professors from 25 law schools. Their involvement in the case shows broad support for our cause. We look forward to the court's decision on the matter, and will continue to fight for the rights and future of our youth and the planet.
We've advanced our youth-led case in Utah, submitting our opening brief to the Utah Supreme Court, alongside amicus curiae ("friend of the court") briefs by the ACLU and ACLU of Utah, the American Academy of Pediatrics – Utah Chapter, Voices for Utah Children, Utah Moms for Clean Air, Utah Physicians for a Healthy Environment, and a group of 37 law professors from 25 law schools.
In youth-led advocacy news, last month Juliana v. U.S. youth plaintiff Isaac testified at a virtual public meeting with the White House Environmental Justice Advisory Council. Isaac urged members to:
Recognize that children have fundamental, constitutionally-protected rights to a safe climate that should be protected by courts.
Advise the White House Council of Environmental Quality and White House Environmental Justice Interagency Council to align their policies to allow youth, especially children within environmental justice (EJ) communities, access to courts.
Tell the U.S. Department of Justice to cease its efforts to preclude the Juliana plaintiffs access to their courts to seek judicial protection of their rights.
Urge Congress to pass the Children's Fundamental Rights and Climate Recovery resolution that recognizes children's rights and demands a climate recovery plan!
You can join Isaac in his plea to the U.S. Department of Justice to end their opposition to his case proceeding to trial. Contact the DOJ today and tell Attorney General Merrick Garland: Let the Youth Be Heard!
We are actively preparing the next wave of climate litigation building upon the win in Montana, including preparations for trial in Navahine F. v. Hawaiʻi Department of Transportation.
We also anticipate decisions soon from the courts hearing Juliana v. United States and La Rose v. His Majesty the King, as well as dates to be scheduled to appear before the Montana Supreme Court and Virginia Court of Appeals.
TIME named Rikki Held to the Time100 NEXT list for her leadership and determination to create a better future.
The Climate Change Leadership Institute presented Our Children's Trust with their 2023 Climate Courage Award "for most commendably representing young people and honoring their right to a healthy and livable climate"
The International Center for the Study, Prevention and Treatment of MultiGenerational Legacies of Trauma honored Julia Olson with the Repairer Excellence Award "for founding Our Children's Trust, trailblazing an inspiring path to victory and hope in the first U.S. children's constitutional climate trial." 
Tuesday, October 31
8 p.m. ET/5 p.m. PT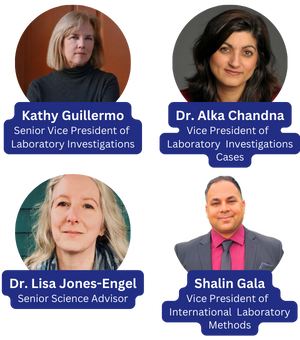 PETA is stopping deadly experiments on animals, and we want to tell you how!
PETA has been stopping horrifying experiments on animals since our very first undercover investigation into a dungeon-like Maryland laboratory more than four decades ago.
Today, PETA's team of campaigners, scientists, and investigators is leading a global movement that's preventing countless dogs, rabbits, monkeys, mice, and other animals from ever experiencing the nightmare of a laboratory cage.
This Halloween, we want to show you how—together—we're stopping deadly tests, shutting down experimenters' torture chambers, and promoting effective, modern research methods that don't harm a single animal.
Please join us for our special PETA town hall meeting on Tuesday, October 31, at 8 p.m. ET/5 p.m. PT. You'll get an exclusive, behind-the-scenes look at our vital work for animals in laboratories—with three committed PETA scientists and me as your guides.
To participate, simply log on to PETA.org/OctoberTownHall at 8 p.m. ET/5 p.m. PT on Tuesday, October 31. We'll send you a reminder e-mail shortly before the meeting begins.
Now that the "Worst Roadside Zoo in America" has been stripped of its filthy crown and shut down, which decrepit, broken-down hellhole for animals has taken the number one spot? The notorious Barry R. Kirshner Wildlife Foundation.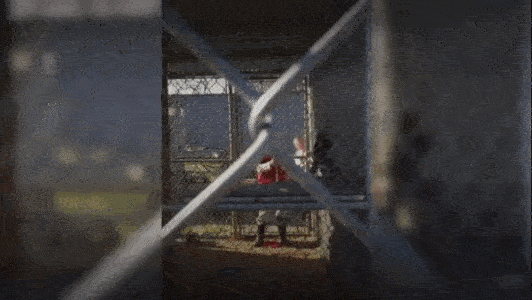 Since 1995, Kirshner has acquired over 100 baby wild animals from breeders and other roadside zoo operators. More than 80 of these animals were under 3 months old when they were shipped to the facility. From January 2021 through June 2022, the U.S. Department of Agriculture cited Kirshner 13 times—an average of one citation every six weeks.
Compassionate people everywhere are turning away from shady roadside zoos, and Kirshner is at the top of the garbage pile. Please e-mail its operator, Roberta Kirshner, and urge her to close this cruel facility and send the animals there to reputable sanctuaries. E-Mail Roberta Kirshner.
Then help other animals suffering in the entertainment industry: Take Action Now
Urge Greedy Dealers and Roadside Zoos to Dump Horrific Mt. Hope Auction
Animals at this auction have been emaciated, suffering from obvious injuries or illnesses, or even left for dead. One fox—who was given a number instead of a name—was trapped in a small plastic carrier with a broken leg and, instead of being treated, was forced into the auction ring by someone trying to pocket some cash. We already asked you to message the auction owners—now we're urging everyone to take the next step by e-mailing the dealers selling animals at the auction. E-MAIL DEALERS AND OTHERS NOW
Kevin Cooper lawyers urge CA Gov. Gavin Newsom to reject
biased and inaccurate innocence investigation of his case
We wanted to update you on the Kevin Cooper case, which we have written extensively about over the years.
Cooper, who has been on California's death row for 35 years, is asking California Gov. Gavin Newsom to reject the findings of an investigation into his case by the law firm Morrison Foerster that was released in January.
He included his request in a detailed rebuttal to the Morrison Foerster report. Orrick's 77-page response (and an additional 364 pages of exhibits) methodically debunks the report point-by-point, and asks Newsom to appoint a new special counsel consistent with his May 2021 Executive Order.
Morrison Foerster failed to conduct an independent innocence investigation and has produced a report "riddled with a steadfast commitment to 'stick to the script' the prosecution has been peddling for the last 40 years," Orrick states.
Newsom's order called for an investigation into Cooper's 1985 death penalty conviction for a quadruple murder in San Bernardino County in 1983. The instructions were to "conduct a full review of the trial and appellate records in this case, and of the facts underlying the conviction, including facts and evidence that do not appear in the trial and appellate records. The firm's review shall include an evaluation of all available evidence, including the recently conducted DNA tests."
But Morrison Foerster didn't do what was asked. Instead, its report was shockingly and openly biased toward the San Bernardino County District Attorney and Sheriff's office. The law firm relied on "expert" witnesses who weren't experts, dismissed legitimate questions about evidence that had been destroyed, gone missing, and showed signs of tampering. It ignored documented Brady violations, and the pervasive racism surrounding the case, and failed to interview relevant witnesses.
Orrick's report states that "Special Counsel's Report is filled with confirmation bias, incompetent analyses, and conclusory statements that are unsupported by any reasoned analysis. Incompetently, Special Counsel did not seek to uncover significant issues bearing on Mr. Cooper's innocence, including an improper police investigation, prosecutorial misconduct, and ineffective assistance of counsel."
The rebuttal refers to a similar recent investigation of the Richard Glossip case in Oklahoma, another man sentenced to death despite similar credible evidence of innocence. That pro bono investigation, conducted by the law firm Reed Smith, involved 30 lawyers, three investigators, and two paralegals devoting more than 3,000 hours to interviewing jurors, experts, and witnesses, including civilians and members of law enforcement. The result was five reports that concluded that Glossip's trial could not "provide the basis for the government" to take his life.
"This serious and comprehensive review. . . stands in conspicuous contrast" to Morrison Foerster's report "that is devoid of even identifying what process Special Counsel followed. . . and perhaps most importantly, what witnesses he interviewed and what documents he reviewed," Orrick stated.
"When Mr. Cooper was tried almost 40 years ago, law enforcement failed to pursue the multiple, concrete leads on all possible suspects in their investigation of the Ryen/Hughes crimes and instead utilized all their resources to pin the guilt on a man who is innocent. Special Counsel tragically repeated this senseless and grave error," Orrick said.
As a result, Cooper is now asking Newsom to "select new unbiased and fully vetted special counsel to conduct such an investigation and ensure that such counsel has the requisite experience to conduct that investigation with professional, experienced, and qualified investigators."
You can read Orrick's full report here.
Survival at Stake: How Our Treatment of Animals Is Key to Human Existence by PETA U.K. Senior Vice President of International Affairs Poorva Joshipura is available to order—and the reviews are in:
"Survival at Stake may be the most fascinating and troubling book you will ever read. Tracing the path that brought us HIV, COVID-19, and other killers, it shows exactly how to protect against future threats. More than a wake-up call, it is an alarm bell for environmental and health risks, along with a well-mapped escape route. The real gift of this book is its optimism. It shows how the steps that protect our health and those that protect our planet and the animals with whom we share it are one and the same."

—Dr. Neal D. Barnard, president, Physicians Committee for Responsible Medicine, Washington, D.C.
"There is absolutely no doubt that a vast array of diverse nonhuman animals (animals) are sentient and have rich and deep emotional lives. The important question is not if animals are emotional beings, but why emotions have evolved and why it is essential to pay careful attention to these well-established scientific facts in all of our interactions with them. We also know that caring for nonhumans spills over into caring for humans, and Poorva Joshipura's wise words show that when we treat other animals with respect, dignity and compassion, it's a win-win for all. Survival at Stake is a must-read for a global audience, and animals around the world will thank us for doing so."

—Marc Bekoff, Ph.D., professor emeritus of ecology and evolutionary biology, University of Colorado–Boulder, and author of The Animals' Agenda
So don't wait another moment—order your copy today! Order Here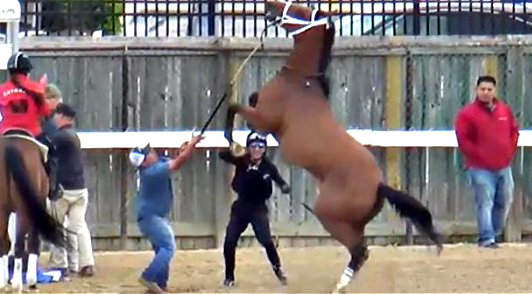 Just How Deadly Are These Racehorse Auctions? See What PETA Caught on Video
PETA's latest investigation goes "behind the screens" of the killing of juvenile horses at auctions, where the animals are whipped and driven to run as fast as they can possibly go—sometimes to their deaths. URGE AUCTION COMPANIES TO SPARE HORSES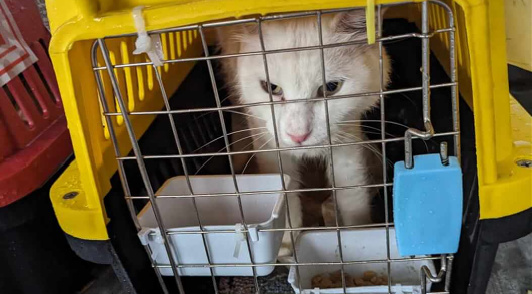 Blind Cat Dies and Four Kittens Escape From EGYPTAIR Crates
PETA is alerting federal officials and calling for an investigation after an airline shipped more than three dozen cats and kittens overseas, several in broken crates held together with duct tape. HELP ANIMALS BEING SHIPPED LIKE CARGO
Bobo and Burt have apparently been defanged (i.e., mutilated) to sell photo op tickets by the greedy Banana Derby. In addition to being treated like props, these two middle-aged capuchin monkeys are tied by their necks to the backs of running dogs. Shockingly—and despite the inherent cruelty—the Columbia County Fall Fair in Georgia is still planning to host this heinous event.
In addition, the North Georgia Fair is hosting a callous show in which tigers are exploited by Felicia Frisco, who last year greedily forced tigers to endure the distress of traveling thousands of miles for six straight months. Urge These Georgia Fairs to Stop Hosting the Suffering of Wild Animals!
"WooCommerce" Plugin is Not Activated!
In order to use this element, you need to install and activate this plugin.