Kylie Jenner surely turned several heads when she arrived at Schiaparelli's Spring-Summer 2023 couture show on Monday wearing a strapless black gown adorned with a life-size head of a lion — as part of the brand's latest collection. The hyperrealistic faux head, complete with manicured mane, affixed to the front of the dress had many wondering if it was real or fake.
Emphasising that "no animals were harmed in making this look", Schiaparelli wrote on social media, "Embroidered lion in hand sculpted foam, wool, and silk faux fur, and hand-painted to look as life-like as possible, celebrating the glory of the natural world."
This, however, wasn't the only animal seen at the brand's Paris extravaganza as models Shalom Harlow, Naomi Campbell, and Irina Shayk walked the runway modelling large snow leopard head, wolf head, and a lion head, respectively.
According to Schiaparelli's creative director Daniel Roseberry, these three animals were "sculpted and embroidered by hand, celebrating the glory of nature and guarding the woman who wears it".
While the brand has specified the pieces are "faux-taxidermy" and the collection was inspired by Dante's Inferno, social media users criticised Kylie and Schiaparelli for promoting "trophy hunting" with these animal heads.
A user tweeted: "Sickening, this is not fashion! It is sending the wrong message and making #wildlife trophies appear to be hip and in vogue. It is promoting trophy #hunting while most countries are trying to stop this archaic and cruel 'sport', which kills for the thrill!"
We are glorifying trophy hunting in the name of 'high fashion' now? https://t.co/7oGG9w8A7W

— Kirk (@Mambo_Hwata) January 24, 2023
Carrie Johnson, the wife of former UK Prime Minister Boris Johnson, posted a video of Shayk wearing the lion-head gown on her Instagram story and wrote, "Grim! Real or fake, this just promotes trophy hunting. Yuck!"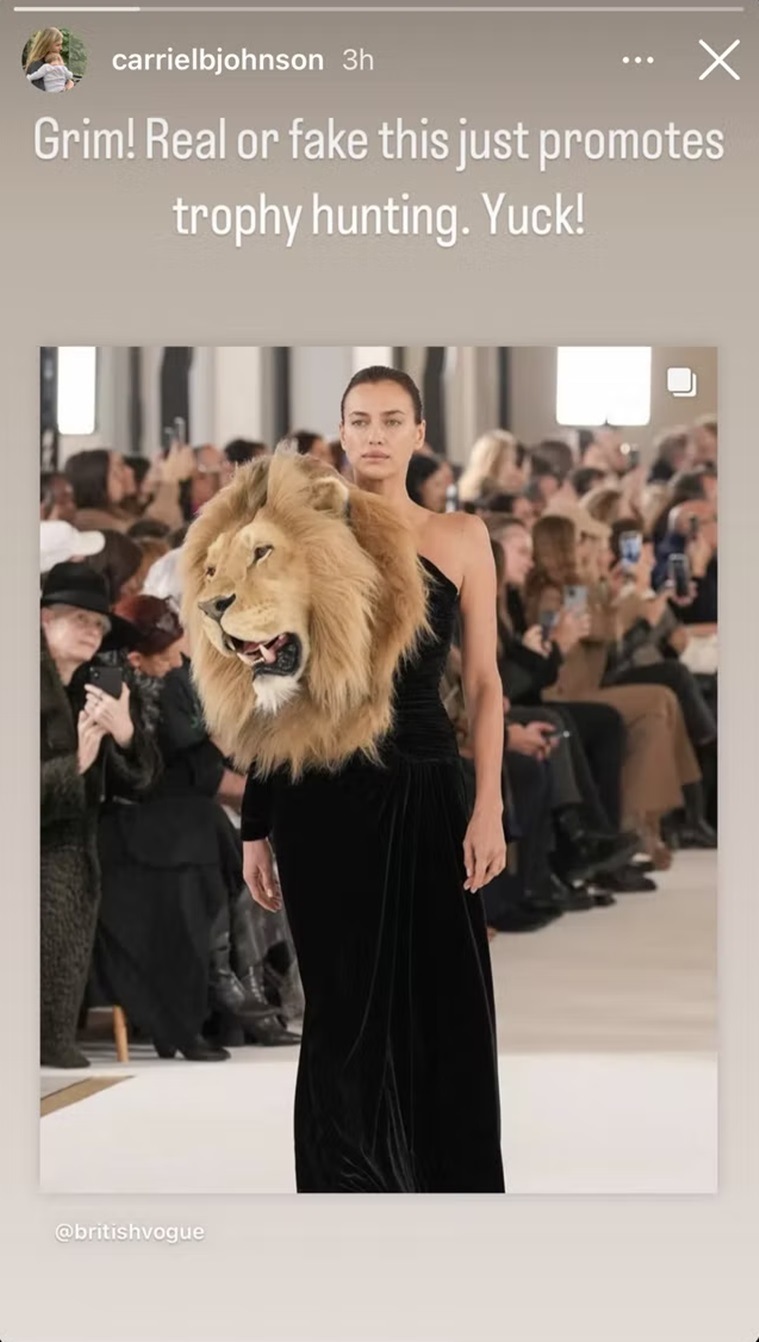 Carrie criticises animal head looks (Source: Carrie Johnson/Instagram)
"We are glorifying trophy hunting in the name of 'high fashion' now?" another user tweeted.
Several others took to the comment section of Roseberry to call out the problematic nature of the design.
"While the creative talent behind the realism of these iconic species is undeniable, as someone who works tirelessly at an NGO to protect coexisting with wildlife using non lethal tools, I am truly appalled by this concept… I understand there is more of an in-depth message attributed to Dante's Inferno that is symbolic to literature, but the end result of your creations is not avant-garde, but in my opinion overall perpetuating that killing wildlife for fashion and sport is glamorous…Yes the animals look realistic beyond belief, yes there is an incredible talent to be acknowledged, but the messaging is off point," a user explained.
People for the Ethical Treatment of Animals (PETA), however, praised the fashion house for its "fabulously innovative" animal-head dresses. "These fabulously innovative three-dimensional animal heads show that where there's a will, there's a way—and Kylie's look celebrates lions' beauty and may be a statement against trophy hunting, in which lion families are torn apart to satisfy human egotism. Next up: PETA urges Kylie to extend this creativity to exclude sheep shorn bloody for wool and silkworms boiled alive in their cocoons. We encourage everyone to stick with 100% cruelty-free designs that showcase human ingenuity and prevent animal suffering.," PETA's President, Ingrid Newkirk, said in a statement.
📣 For more lifestyle news, follow us on Instagram | Twitter | Facebook and don't miss out on the latest updates!