[ad_1]
BENGALURU: Considering that a convict had undergone imprisonment for more than 30 years, including solitary confinement for substantial period without any sanction, the Karnataka high court has commuted his death penalty to life imprisonment.
Saibanna, 70, lodged in Belagavi prison, had challenged the April 29, 2005 order of the governor of Karnataka and January 4, 2013 order passed by the President of India rejecting his mercy petitions.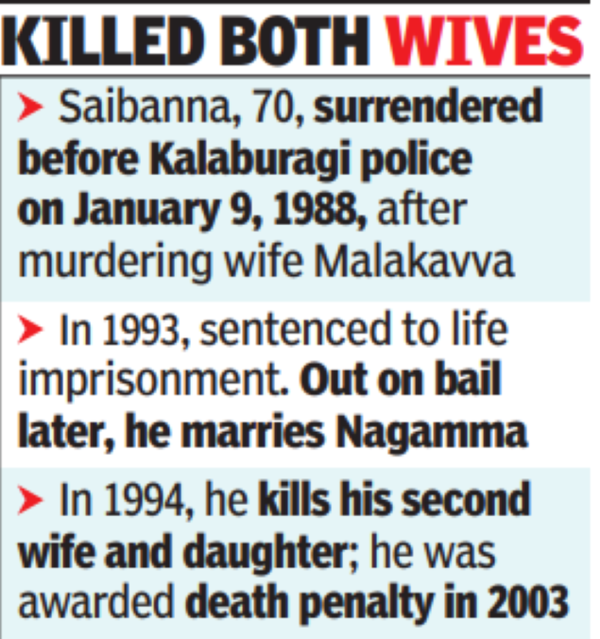 Saibanna had surrendered before Afzalpur police in Kalaburagi district on January 9, 1988, after murdering wife Malakavva, suspecting her fidelity. He was sentenced to life imprisonment in that case on February 2, 1993. When he was released on bail later, he married Nagamma. Thereafter, they had a daughter.
On August 19, 1994, Saibanna was released on parole on the ground that his mother was unwell. On September 19, 1994, he killed Nagamma and their daughter by alleging it is not his child and she had an extramarital affair. He tried to commit suicide. On January 8, 2003, he was awarded death penalty and the Karnataka HC confirmed it in the same year on October 10. On April 21, 2005, the Supreme Court upheld the death penalty.
Thereafter, he submitted a mercy petition to the governor of Karnataka and the same was rejected.
He then moved the President of India. A number of mercy petitions were also moved on his behalf by many organizations as well as independent citizens. However, all of them were rejected.
In the petition before the high court challenging the rejection of mercy pleas, Saibanna argued that there is inordinate delay of 7 years 8 months in considering his mercy plea by the President of India in 2013. It was argued that the death penalty was imposed relying upon a sole witness. It was further argued that since 2003, Saibanna had been illegally kept under solitary confinement without any sanction.
Senior advocate Vikram Huilgol, appointed amicus curiae, submitted that avoidable, unexplained and extraordinary delay are grounds for consideration. He further added that the Supreme Court has said in many cases that solitary confinement is impermissible and even the Prison Manual does not provide it except as provided in law.
After considering the material and the report submitted by the prison authorities, a division bench comprising Justices G Narendar and CM Poonacha noted that Saibanna has been made to suffer solitary confinement without the sanction of law.
The bench has further pointed out Saibanna's health report indicates he is visiting the doctor regularly and going though bouts of restlessness indicating the trauma undergone by him.
Sentence commuted
"Thus, it can be authoritatively said the petitioner has been undergoing incarceration from January 9, 1988, till today except for a short period between July 13,1988 and February 2,1993 and thereafter from February 21, 1993 till today. The petitioner had been lodged in Kalaburagi jail and was transferred to Belagavi prison on January 10, 2003 and from which date, he has been kept in solitary confinement," the bench noted, while commuting the sentence to life imprisonment on the strength of Saibanna having spent 30 long years in jail, with liberty to move an application before the state government for remission.


[ad_2]
Source link