Therefore, Reindeer, also known as Caribou, travel upward of 1,000 miles during migration except when Humans Take Them From It to Strap them to Santa's sleigh to use at Christmas parades, displays, other holiday events, or movies.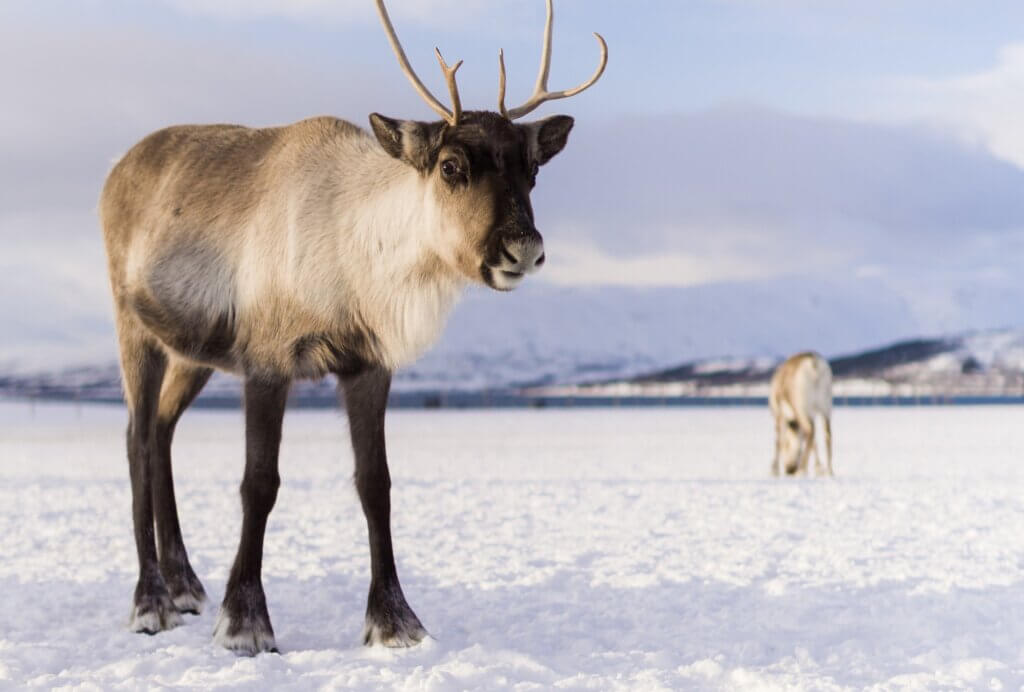 Reindeer / Caribou, are fascinating creatures that undertake incredible journeys during their annual migration in the wild. However, when they are harnessed to Santa's sleigh or used in Christmas parades, displays, and other holiday events or movies, they are deprived of their natural behaviors and social interactions within their herds.
Reindeer are herd animals that travel vast distances of over 1,000 miles during their annual migration. This migratory behavior allows them to find food, escape predators, and maintain social bonds with other members of their herd. Unfortunately, when they are used for entertainment purposes, their natural instincts and needs are disregarded.
One of the primary concerns with using reindeer in holiday events is the restriction of their movement. In nature, reindeer have the freedom to roam across vast landscapes, foraging for food and adapting to changing environmental conditions. However, when they are confined to small spaces or harnessed to Santa's sleigh, their ability to exercise and explore their surroundings is severely limited. This lack of movement can lead to physical and psychological distress for the animals.
Additionally, the social dynamics of reindeer herds are disrupted when they are used for entertainment purposes. In the wild, reindeer live in tight-knit groups, relying on each other for protection and support. By separating them from their herd and placing them in artificial settings, we deprive them of the social interactions they rely on for their well-being. This isolation can lead to increased stress and anxiety for the animals.
Furthermore, the use of reindeer in Christmas parades, displays, and movies can contribute to the perception of these animals as mere props or objects of amusement. This portrayal diminishes their inherent value as living beings and perpetuates a culture of exploitation. It is important to recognize that animals, including reindeer, deserve to be treated with respect and dignity, rather than being used solely for human entertainment.
Fortunately, there are alternative ways to celebrate the holiday season without exploiting reindeer. Many communities have embraced the use of realistic replicas or animatronic models, which can provide a visually appealing experience without compromising the welfare of live animals. These alternatives allow us to enjoy the festive spirit while still respecting the natural needs and behaviors of reindeer.
The use of reindeer in holiday events may seem harmless and festive, but it comes at a cost to the well-being of these magnificent creatures. By confining them and disrupting their natural behaviors and social interactions, we deny them the opportunity to lead fulfilling lives. It is crucial that we reconsider the use of live reindeer in favor of more ethical alternatives that prioritize the welfare of these animals. Let us celebrate the holiday season in a way that respects and appreciates the beauty of nature, including the remarkable reindeer.
Reindeer are truly fascinating creatures with unique adaptations that allow them to survive in harsh environments. During the summer months, their pads become soft and spongy, which is nature's way of helping them traverse soft, muddy ground. However, in the winter, their pads are designed to shrink and toughen up, revealing a sharp rim on their hooves. This allows them to crack through ice and snow with precision and ease.
However, it's important to recognize that when reindeer are forced to perform on solid, unyielding surfaces like concrete, it can be dangerous for them. The risk of slipping and injuring themselves increases, especially when they're pulling heavy sleighs. It's also essential to remember that animals are sentient beings who feel pain and experience emotions and should not be treated like inanimate objects.
We must acknowledge that speciesism, which is a human-centric worldview that disregards the interests and well-being of animals, is not acceptable. Hence, it is critical that we treat and care for reindeer with the respect they deserve as individual beings that have the right to live free from any kind of exploitation.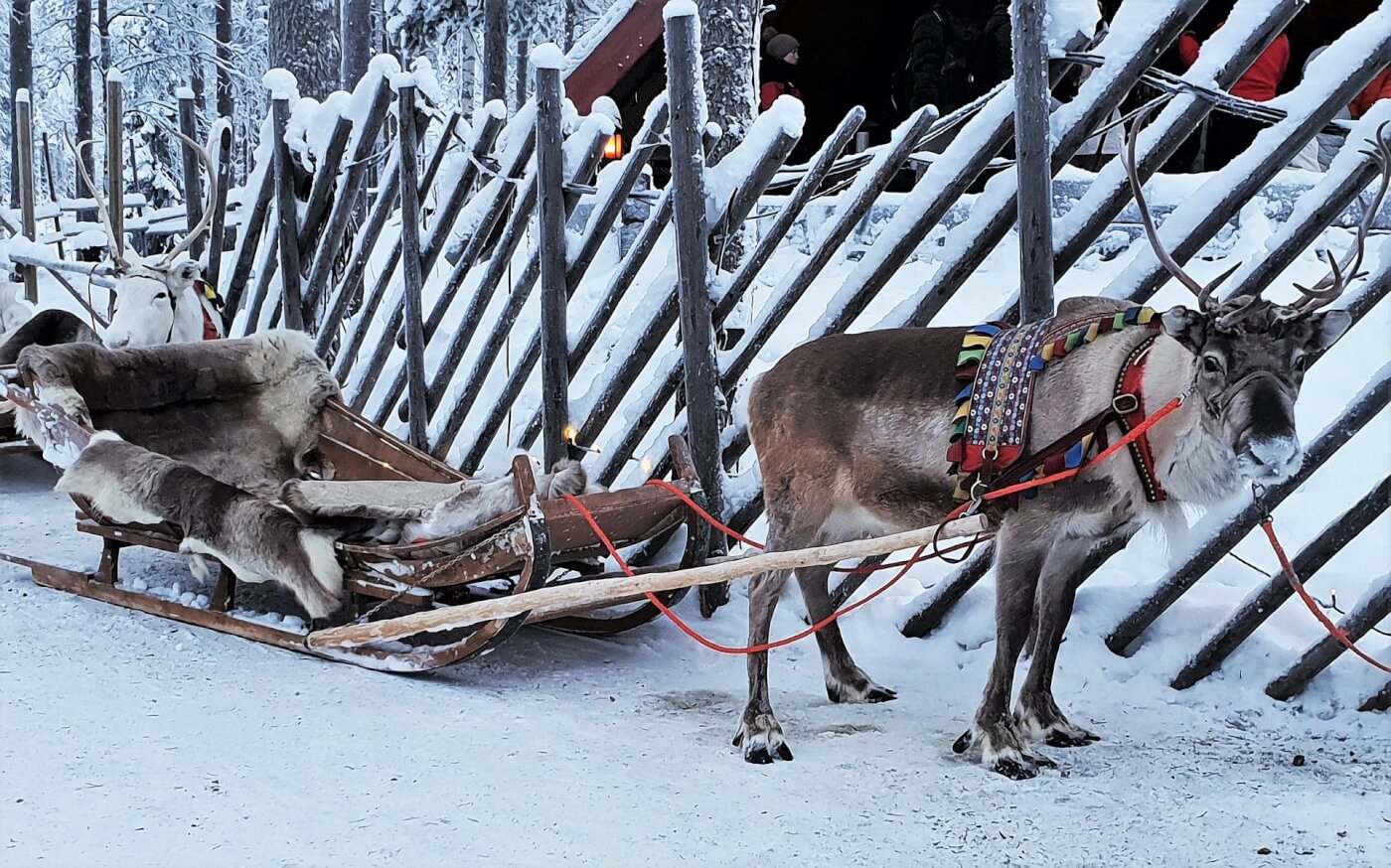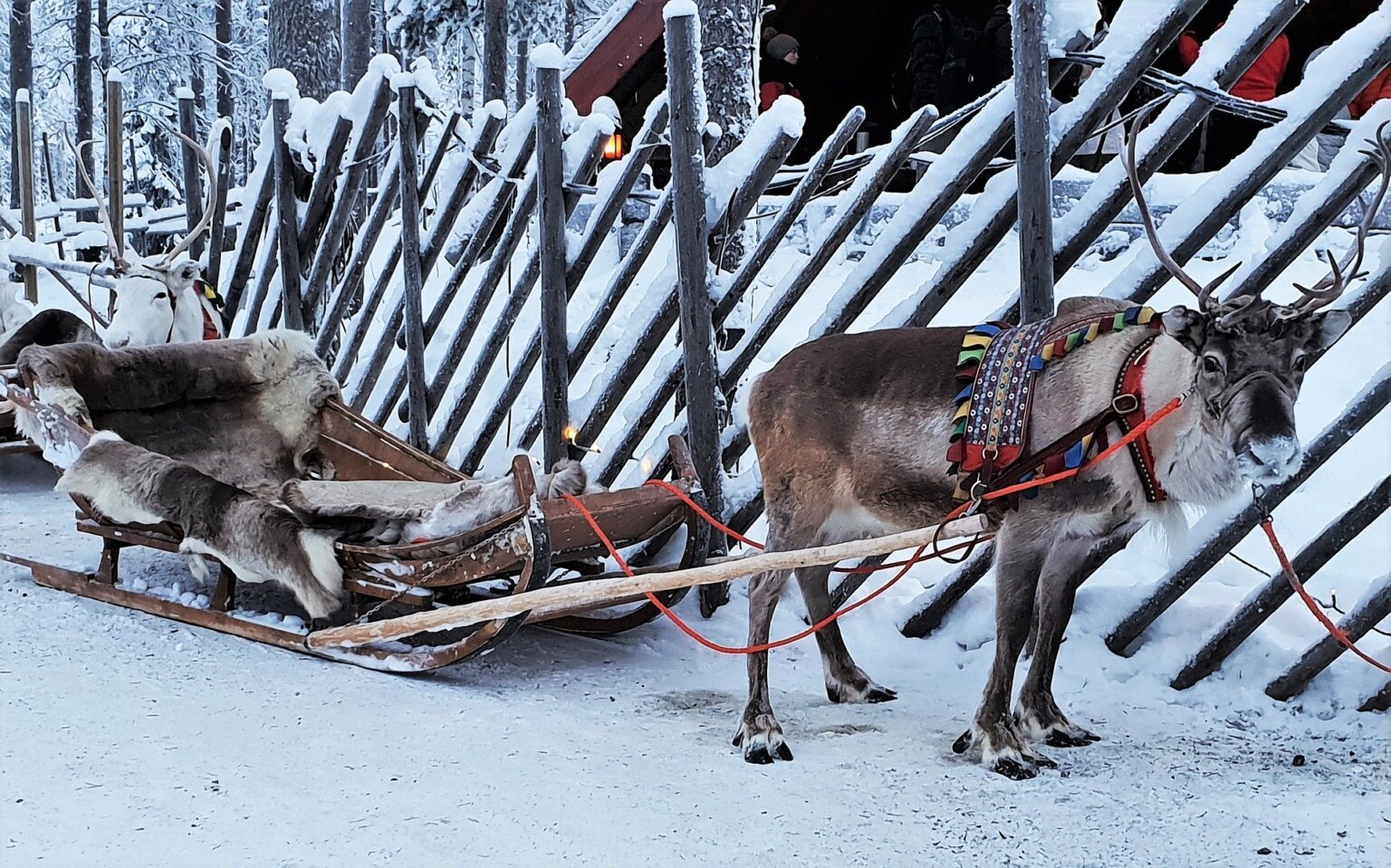 In their natural habitat, they roam freely through vast and rugged mountain ranges and swim gracefully across rivers. These magnificent creatures possess broad hooves that help them paddle at an astonishing speed of up to 6 miles per hour! However, it's unfortunate to note that when confined to events, rental facilities, or roadside zoos, they tend to experience some unfavourable outcomes. Despite being majestic creatures, they develop poor muscle structure due to lack of exercise and could also lose weight. The confinement to small spaces could also result in poor antler growth or malformed antlers – a feature that is unique among the deer species as all reindeer have antlers. It's, therefore, important that we take note of these vital factors when it comes to the well-being of these creatures.
Reindeer, when subjected to living conditions outside of their natural tundra habitat, require regular hoof care. The inadequacy of hoof trimming by exhibitors who confine them for entertainment purposes is a significant concern. Observations reveal that the hooves of reindeer begin to curl or grow downwards in the ground due to insufficient or absent hoof trimming. The United States Department of Agriculture (USDA) has repeatedly cited several exhibitors for their failure to provide basic preventive veterinary care. Neglecting the trimming of overgrown hooves can lead to excruciating ailments like arthritis. Consequently, it is imperative to ensure that proper and routine hoof care is provided to reindeer subjected to living conditions outside their natural habitat.
It is imperative to document the effect of human feeding on reindeer in captivity. Studies reveal that reindeer, when dependent on human feeding often suffer from malnutrition leading to a negative impact on their physical condition. Instances of underweight reindeer have been reported in rental companies, roadside zoos and holiday displays. One Illinois-based rental company was found with over 50% of their reindeer in a critically undernourished state, caused by the owner's negligence in providing adequate nutrition to the animals. Similarly, a Washington roadside zoo was warned by the USDA for failing to provide veterinary care to an underweight reindeer who was severely undernourished, resulting in visible symptoms of sunken hips and rib exposure. At a holiday display in Missouri, another underweight reindeer lacked proper hair growth, had patchy hair and exhibited signs of skin disorders that could prove contagious to humans and other animals. These findings emphasize the need for regulatory measures to secure underweight reindeers' welfare in captivity.
Inadequate living conditions and poor management practices may result in hair loss, respiratory discharge, and other health conditions among captive reindeer populations. A case observed in an Indiana exhibitor revealed patches of hair loss and bare skin on the animal, suggesting a potential bacterial or fungal infection. Regrettably, the facility did not seek veterinary care as they assumed the animal was shedding. Another incident in an Illinois rental facility involved a reindeer with a swollen, cloudy eye and brown discharge, which went unreported to the veterinarian. A Colorado-based reindeer supplier for holiday events was found to provide insufficient veterinary care to multiple animals exhibiting various symptoms, including limping, nasal discharge, thinness, and staggering gait. Such neglectful practices not only compromise the welfare of reindeer but also pose potential threats to public health.
The data presented indicates that a limited number of reports have been documented concerning physical neglect of reindeer. The observed practice of utilizing reindeer for Christmas festivities results in significant psychological and emotional distress, due to the separation of these animals from their natural habitat and herd. The use of reindeer solely for the purpose of human entertainment during the Christmas season represents a form of speciesism, whereby one particular species is privileged over others solely for human enjoyment. Based on the above stated, it can be concluded that the use of reindeer for Christmas events does not provide a joyous experience for the animals in question.
When they're not being carted around to Christmas events, reindeer often live on farms or in rental facilities.
The USDA has reported that multiple reindeer rental facilities throughout the United States have violated regulations by confining these mammals to enclosures that are hazardous to both them and humans. One facility in New York was cited for inadequate sanitation practices leading to unsanitary living conditions, which could be harmful to animal health. A California rental facility had conditions that were so insanitary that an excessive number of flies were attracted to the buildup of feces, covering the eyes and jeopardizing the welfare of the reindeer. Similarly, a Tennessee supplier was cited for failure to clean reindeer shelters causing accumulation of urine and feces that posed a risk to animal health. The reindeer were also found without access to fresh drinking water.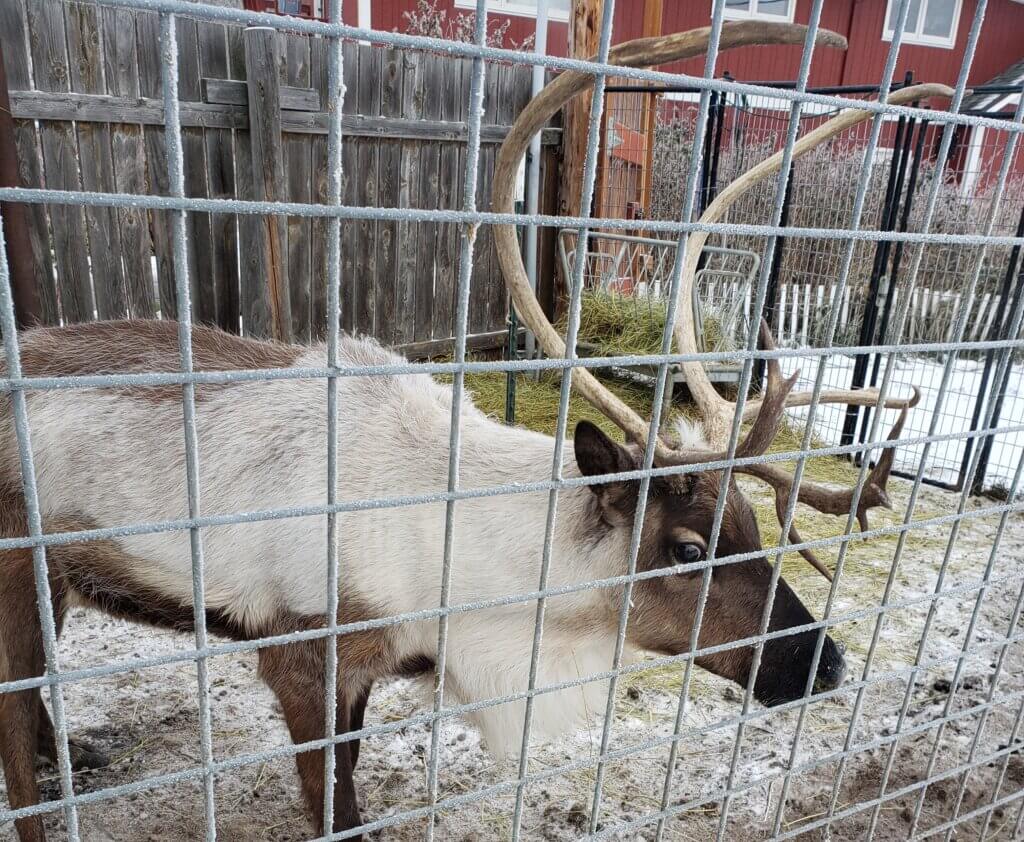 It has been found that keeping reindeer on farms and other facilities places interns, employees and public safety at risk. An intern at an Illinois facility was recently injured when a reindeer pushed her against the fence and punctured her with its antlers. This behavior could have been avoided by allowing the animal to reside peacefully in its natural environment where they would not feel threatened.
It is important to note that wild animals such as reindeer should be kept in their natural environment as they can easily become frightened and may exhibit unpredictable behavior when forced to live outside their habitat. In recent events, reindeer were being used as props for photo opportunities and public encounters in various states such as Colorado and Utah. Unfortunately, some incidents have occurred, including one case where a reindeer escaped from a handler in Colorado. She ran through the city streets and had to swim through a reservoir before being captured by the authorities the following night. The USDA cited the exhibitor, as this situation has caused the animal significant stress and an increased risk of injury or even loss of life. In Utah, two reindeer jumped from a trailer while they were in transit and were hit by vehicles. One of them died instantly, while the other one succumbed to severe injuries less than a week later. The USDA gave an official warning to the exhibitor for failing to ensure the safety of the animals that were under their responsibility.
Overall, the holiday season is a special time that calls for us to embrace empathy and compassion towards others. It is an opportunity to spread kindness and goodwill to those around us, especially to animals who may be sensitive to certain stimuli. As such, it is important that we prioritize the well-being of all living creatures, including reindeer who may find it overwhelming to be transported to crowded and possibly frightening events during this festive season.
Rather than subjecting these majestic animals to unnecessary stress and discomfort, let us ensure that we show them the same love and care that we would extend to our loved ones. We can choose to celebrate the season through alternative means such as decorating our homes, creating homemade gifts, or participating in virtual get-togethers. By doing so, we not only protect and preserve the dignity of animals but also promote the true spirit of Christmas which centres around empathy, kindness, and respect for all life.
Click here to read more and to help stop this form of wildlife abuse.