[ad_1]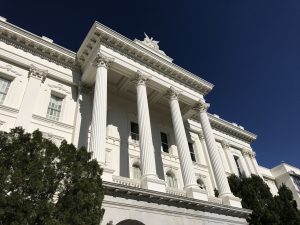 California State Capitol Building
Sacramento, CA — Lawmakers in the Senate and Assembly have voted to impose an 11% tax on the sales of guns and ammunition.
Governor Gavin Newsom has until October 14 to decide whether to sign the bill. The tax would match the highest current federal taxes already placed on gun sales.
California has existing fees on gun sales totaling around $37 and the money is mostly used to cover the costs of background checks. If signed by the Governor, the new tax would take effect on July 1 and raise an estimated $159 million in annual revenue. The money would be split between a violence prevention grant program and the California Department of Education for safety enhancement efforts at public schools. It would pay for schools to do safety assessments and make physical security improvements.
Of note, the 11% federal tax goes toward hunter-safety and wildlife programs.
Governor Newsom has not indicated yet whether he will sign the new tax into law.
It is opposed by groups like the California Rifle and Pistol Association.
Democratic leaders in the legislature argued that California needs to lead the country on gun regulations.
[ad_2]
Source link