Worthy of Attention
South Jersey is blessed with a variety of impactful organizations, including the 22 that make up our list of Nonprofit Stars for 2023.
In a diverse region like South Jersey filled with warm-hearted people from all kinds of backgrounds, it makes perfect sense that the area would be home to a wide range of nonprofits that are willing to help with just about any challenge imaginable. Every year, South Jersey Biz likes to highlight the efforts and the noble causes of a select group of organizations, and this year's honorees assist with everything from financial education and economic development to animal protection, preservation of the environment, support of cancer patients and pro bono legal representation. We are proud to recognize their inspirational teams and to present our Nonprofit Stars for 2023.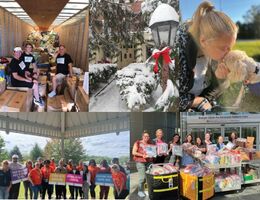 Alice Paul Institute
One of the most vocal and influential leaders of the women's suffrage movement, Alice Paul played a key role in helping secure women the right to vote through the passage of the 19th Amendment in 1919. This nonprofit, founded in 1984 to commemorate the centennial of her birth the following year, honors the Mount Laurel native's legacy and continues her life's work of fighting for gender equality and justice, both under the law and in everyday practice. Consisting of both paid staff and volunteers, the Alice Paul Institute seeks to educate and empower girls and young women; bring recognition to the achievements of women of all ages; preserve Paulsdale, the childhood home of Alice Paul; and advocate for important initiatives like the passage of the Equal Rights Amendment.
Center for Family Services
This provider of social services has a rich history of responding to community needs and adapting to meet current demands across the state. With a dedicated team of compassionate employees, its goal is to help every person reach their full potential through a wide range of individual and family programs. Service areas include addiction and recovery, safe housing, counseling and behavioral health, workforce development, support following traumatic events, early childhood learning programs, and more. CEO Richard Stagliano has been leading Center for Family Services since 2000, and on his watch, it has grown to a staff of over 1,500 and become one of the largest human services organizations in New Jersey.
Comfort Kits for Chemo Care
This nonprofit is proof that it's never too early to start making a difference in the community. Cherry Hill residents Isabelle Berger and Anjali Soni were just in their early teens when they were inspired to support young cancer patients undergoing chemotherapy in isolation during the pandemic. They sprung into action, raising funds and putting together activity kits to donate to kids being treated at Children's Hospital of Philadelphia. Friends since sixth grade and currently juniors at Cherry Hill East, Berger and Soni eventually formed the nonprofit to continue their efforts, and have partnered with local businesses to raise money while also accepting donations on their website, ComfortKits4ChemoCare.com.
CustomED
This unique organization was started in 2011 by founder and CEO Rusty McCarty to assist other nonprofits, schools, government agencies, businesses of all sizes and outreach programs in developing and implementing impactful educational experiences. Since that time, it has collaborated with a wide variety of partners in furthering their missions and inspiring learners through educational apps, workshop series, curriculum development and enhanced training processes. CustomED also offers customized event coordination, providing services such as agenda design, venue selection and onsite management for everything from an afternoon seminar to a weeklong summit.
Financial Wellness Institute
Since its founding in 2003, Financial Wellness Institute (FWI) has aimed to bolster the economic stability of individuals and families in the Delaware Valley through empowerment and education. Its team, led by current president and CEO Wanda Hardy, meets clients of all ages wherever they may be on their financial journey, providing judgment-free guidance with respect and empathy for their situation. FWI's programs include financial coaching, assistance with the home-buying process, support in small business development and career counseling. The end goal is to help people make sound financial decisions and build wealth for the future.
Forgotten Angels Equine Rescue
When Darlene Supnick and Lisa Draharod learned about the inhumane practice of horse slaughtering in foreign plants and the number of horses from New Jersey and elsewhere in the United States that were being brutally killed for their meat, they knew they could not sit by and do nothing. They were inspired to start Forgotten Angels Equine Rescue in 2012 to save horses from slaughter auctions and negligent situations, providing any necessary medical care and placing the animals in forever homes. Located in Medford, it is the only horse rescue in Burlington County, is staffed entirely by volunteers and is 100% donation based. The nonprofit has rescued hundreds of horses and advocated for legislative action to better protect animals in danger.
Friends of the Mansion at Smithville
The home of Hezekiah B. Smith, who owned a woodworking machine company and helped transform Smithville into a model industrial town in the 1800s, is part of Burlington County's Historic Smithville Park and is listed on the National and New Jersey Registers of Historic Places. The Friends of the Mansion at Smithville, a nonprofit established to preserve the mansion and restore it to the time period in which Smith lived on the property, invites the public in for guided tours from May through October to learn of its rich history and get a peek at what life was like during the Victorian era. The organization also gives Christmas tours of the decorated home in December and holds teas and other special events throughout the year.
Local Acts of Kindness Foundation
The DiPasquale family—Nancy, Henry and their son Colin—was devastated by the impact of Superstorm Sandy on their beloved Jersey Shore in 2012, and they felt they had to do something to help. Little did they know at the time that their simple act of kindness would turn into an entire movement still going strong more than a decade later. The Tractor-Trailer Challenge was their original idea, in which they gathered supplies for those affected by Sandy and asked their community to do the same, leading to a 53-foot truck being filled with much-needed items. That turned out to be the foundation for the family's nonprofit, Local Acts of Kindness Foundation, which was officially launched on World Kindness Day, Nov. 13, 2019. The organization seeks to encourage similar charitable acts through "Kindness Challenges" and other programs, while building meaningful connections within the communities of South Jersey.
MatchDog Rescue
Founded and run by lifelong animal lovers, this nonprofit strives to save stray or abandoned dogs from high-kill shelters, offer them safety through its volunteer foster program, and ultimately place them in a forever home where they can receive the love and care they need. With education as the foundation for its mission, the MatchDog team gets to know both the adoptees and the potential adopters to arrange the best fit possible. The organization also supports a spay-and-neuter program to reduce the number of unwanted dogs.
NAWBO South Jersey
This has been a special year for the local chapter of the National Association of Women Business Owners (NAWBO), which recently celebrated its 20th anniversary, having been formed in February 2003 and granted chapter status by its parent organization in June of the same year. A self-proclaimed "sisterhood" among women entrepreneurs, business owners and their associates, it serves the region from Burlington to Cape May counties, as well as parts of Mercer County. NAWBO's calendar is chock-full of a wide variety of events and programs that further its mission of promoting economic development, providing networking opportunities, building strategic alliances, changing the business culture and transforming public policy.
New Jersey Conservation Foundation
Outsiders often underrate The Garden State in terms of its natural beauty, but residents know better. And while many New Jerseyans might be unaware of this nonprofit and the great efforts it has made more than the past 60-plus years to preserve more than 140,000 acres of natural areas and farmland from the Highlands to Cape May, there is no doubt they have benefited from its hard work behind the scenes. Many of those protected lands have become beloved parks, and the organization has also consistently fought against overdevelopment, taking legal action when necessary. Furthermore, its team has advocated for and played important roles in the passage of dozens of landmark environmental laws.
Non Profit Development Center (NPDC) of Southern New Jersey
According to the NPDC, the South Jersey region is home to more than 10,000 nonprofits, and it's this organization's mission to support them, recognize their outstanding work, and help them do an even better job of impacting the lives of local residents in a meaningful way. Founded in 2006, the NPDC goes about that objective by providing various educational programs and by hosting events that bring nonprofit leaders together, connect them with potential funders and assist in the forming of new partnerships. Its annual Awards Dinner is a celebration of the area's influential nonprofits, with winners also receiving a small stipend to enhance their offerings. The NPDC's own work has not gone unnoticed, as it received the President's Volunteer Service Award from former President Barack Obama.
The Opportunity League
What started as a charity basketball game in 2009 has evolved into a multi-faceted nonprofit that encourages and supports positive growth in individuals of all ages, families and communities throughout the Greater Burlington area. Through programs like youth sports, S.T.E.A.M. learning, speech and language therapy, youth entrepreneurship, college prep, adult learning and skills development/job placement, "The O League" provides meaningful learning opportunities to put participants on the path to success. It is quite common for those who have been part of the organization to move on and form their own nonprofits, or to return as mentors and teachers themselves.
Pinelands Preservation Alliance
Stretching across seven counties, the Pinelands consists of 800,000 acres of forest and is home to a variety of rare plant species and animals, in addition to the Kirkwood-Cohansey aquifer, which contains some of the purest water in the country. Since 1989, this group has been committed to preserving those natural resources and protecting the Pinelands from abuses of land and water, including overdevelopment. The Pinelands Preservation Alliance also runs two unique initiatives: Pinelands Adventures, an outdoor recreation program that promotes enjoyment of the area through kayaking, hiking and history tours; and Rancocas Creek Farm, a project launched in 2020 in which fresh, chemical-free food is grown on a 72-acre sustainable farm.
Rancocas Woods Business Association
A sense of community clearly means the world to the team behind this nonprofit, which was formed in 2018 to revitalize the Rancocas Woods business district in Mount Laurel. The once-bustling shopping destination lined with historic log cabins had fallen on hard times, but with the backing of the Rancocas Woods Business Association, significant improvements have been made, including the addition of new businesses, increased foot traffic and a full schedule of entertaining, family-friendly events. What's more, business owners and residents have been brought together to share their experiences and concerns and collaborate on overcoming any challenges that arise.
Re-Youth
The six co-founders of Re-Youth banded together over their passion for acting as stewards of the Earth and their shared vision for passing on their support for environmental issues to others in the community. The nonprofit seeks to make a positive impact on the environment by hosting local cleanup events, from urban areas to the woods and the beaches of the Jersey Shore. It also partners with organizations like the Cedar Run Wildlife Refuge on seasonal events, and encourages South Jersey residents to start their own cleanups.
Southern New Jersey Development Council (SNJDC)
With a devoted staff led by Marlene Asselta—who has served as president for more than 30 years—the SNJDC represents a broad range of business types in striving to create a better economic environment in the region. Its membership includes influential leaders in both the public and private sectors in fields such as health care, the casino/gaming industry, education, engineering and more. The SNJDC connects its members with elected officials, tracks bills in the state legislature, promotes and shares information about its organizations, hosts a robust event schedule and works hand in hand with county economic directors to push South Jersey forward.
Sustainable Action Now
This ambitious nonprofit might be based in Cherry Hill, but its reach extends all over the globe. With a dogged commitment to the preservation of the Earth and protection of all of its inhabitants, from people to animals to wildlife, the organization contributes to a long list of worthy causes. Whether pushing for gun safety laws, raising concerns about the private prison system and the death penalty, condemning trophy hunting of wild animals, or advocating for endangered species such as dolphins, whales, lions and elephants, its team is relentless in standing up for what it believes in and bringing about significant change.
UrbanTrekkers
Affiliated with UrbanPromise—a long-serving nonprofit in Camden that aims to give children and young adults the necessary tools to succeed academically and to develop socially and spiritually—Urban-Trekkers complements that mission with a focus on experiential learning. Each grade in its program participates in a class-specific expedition outside of their everyday lives, and the travel opportunity allows them to enjoy hands-on experiences while learning more about themselves and the world around them in addition to growing their leadership and team-building skills. These trips help to raise the children's awareness about the environment, to gain historical perspectives and to understand the value of community service.
Volunteer UP Legal Clinic
Dealing with legal matters is difficult enough under any circumstances, but for individuals without the means to afford an attorney, the challenge becomes just about insurmountable. That's where Volunteer UP Legal Clinic, headquartered in Camden, steps in. Primarily serving residents of Burlington, Camden and Gloucester counties, the nonprofit meets with clients facing issues in the areas of bankruptcy, immigration, family law, civil rights, landlord-tenant matters, wills and estates, municipal court fines and more. Once their specific needs are determined, they are connected with an appropriate South Jersey lawyer affiliated with the organization, who provides pro bono representation.
WCRE Foundation
While Wolf Commercial Real Estate (WCRE) has established itself as one of the leading brokerage and proprty management firms of its kind in the South Jersey region, giving back to the communities it serves has always been important to the company as well. To that end, the WCRE Foundation was formed in 2016 to spearhead its philanthropic efforts, and in the ensuing years the nonprofit has raised over half a million dollars to be dispersed to organizations like the Ronald McDonald House of Southern New Jersey, Bancroft, the American Cancer Society, I AM ALS, Samaritan Healthcare & Hospice and the Jewish Federation of Southern New Jersey. The WCRE Foundation hosts a number of enjoyable fundraising events throughout the year, from golf outings to annual food and toy drives.
Yes She Can Campaign
Zaniya Lewis has accomplished quite a bit in her young life, from interviewing Michelle Obama and appearing on the cover of Seventeen with the First Lady, to being chosen by the NBA to attend a service trip to South Africa. But the biggest achievement of all for the 2020 graduate of George Washington University is arguably this nonprofit she founded, which aims to empower and inspire young people to build an equitable world. Education is a primary focus of the award-winning organization, and one of its major initiatives is DISSCHOLARED, which spreads awareness about scholarship award displacement while protecting the scholarships of more than 17 million students. Yes She Can Campaign also exposes students to different career pathways, offers internship opportunities and promotes entrepreneurship.