[ad_1]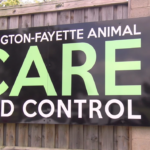 LEXINGTON, Ky (WTVQ)- This summer season has been riddled with animal cruelty and abuse cases across Kentucky.
In July, 77 animals were rescued from a neglect situation in Middlesboro. And in August, Georgetown Police identified two people they say tortured and killed a cat.
ABC 36 spoke with the Lexington Fayette Animal Care and Control about what they're seeing.
In the 15 years cruelty investigator Jai Hamilton has been with the LFACC, she says the number of animal cruelty and neglect cases has gotten progressively worse.
"Already in 2023, we've had 56 charges of animal cruelty in Fayette County."
Hamilton says those numbers are on par with 2021-2022. And the year isn't over yet. Hamilton is now calling on stricter laws to help protect animals from abusers.
"I would also like to see felony provisions for neglect- where animals die or suffer serious physical injury or death. I would like that to be a felony. For instance, if somebody leaves their animal behind in a house and it dies of starvation, that should be felony, not a misdemeanor," says Hamilton.
In fact, Kentucky is listed as 45th in the nation when it comes to protecting animals through protection laws. But state lawmakers are trying to change that.
"We are making some great strides going forward to put some things, safe guards in place to protect the vulnerable among us," says Rep. Ryan Dotson of Winchester.
Dotson is a sponsor of House Bill 10, which if it had passed, would increase the penalty for those who are charged with neglect and abuse of animals in Kentucky,. The bill passed the House but the session ran out.
"But we're going to try again this year," says Dotson.
Dotson says 71% of people who abuse pets go on to abuse humans.
"That's a pretty high statistic. It shows the correlation between pet abuse and human abuse. So if we can curb it at the animal level, that would help," says Dotson.
Meantime, Hamilton says its as important as ever that if you see something- say something.
"We do have an officer staffed 24-7, so we'll always be available," says Hamilton.
To report animal neglect, you can call the Lexington Fayette Animal Care and Control at (859) 255-9033.


[ad_2]
Source link