If It's September, it is the start of the Dolphin Hunting, Killing & Captivity Season in Taiji, Japan!
It stirs up a feeling of sadness and empathy within me to think about how Angel, the albino dolphin, was taken away from the peaceful waters of the cove in Taiji, Japan so many years ago. The thought of Angel living in a tank for all these years, with limited space to swim and explore, breaks my heart. I can only imagine the toll that such confinement can take on a creature that was meant to roam free in the vast expanses of the ocean. It's a sobering reminder of the consequences that human actions can have on the natural world. I can only hope that Angel is being well-cared for, receiving the best possible treatment and care, and that someday, maybe, she will be able to return to the ocean and be reunited with her pod.
On the first day of September every year, the Taiji dolphin slaughter begins. For six months, dolphin-hunting vessels sail out of Taiji, Japan; hunt down pods of wild dolphins; surround them; and drive them back toward land to the infamous killing cove.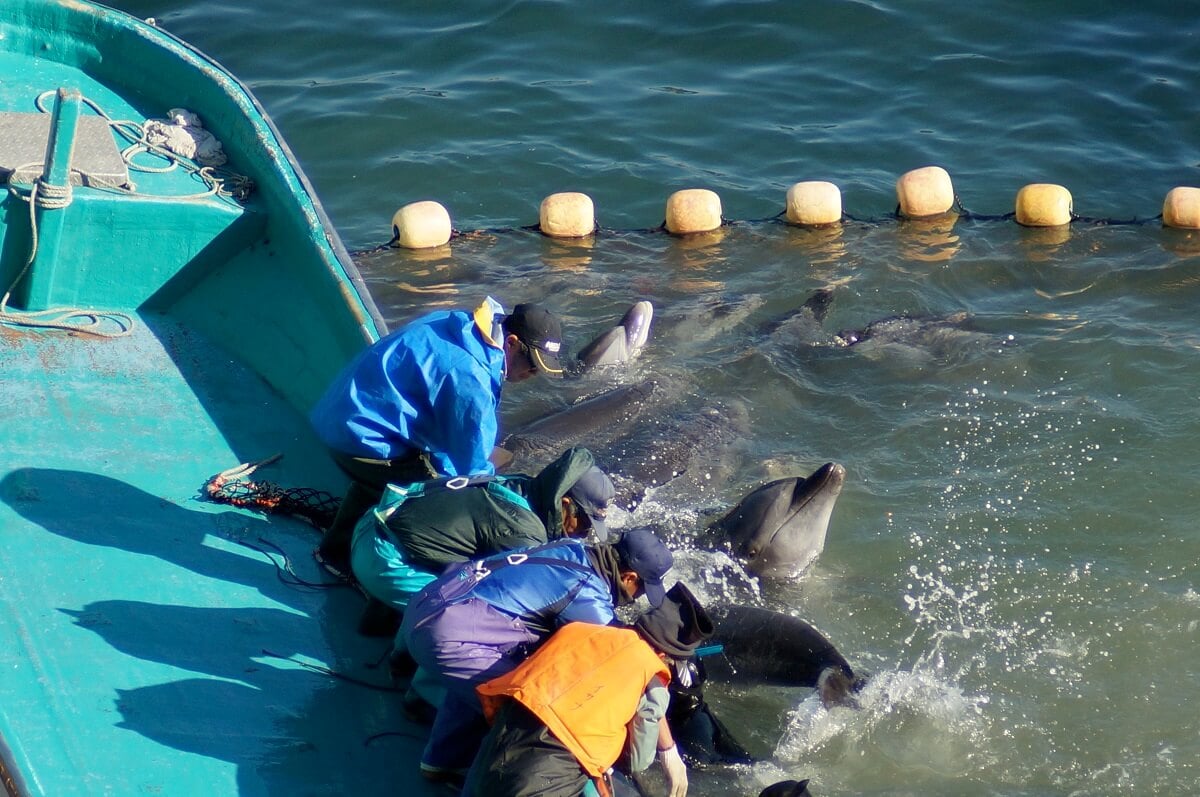 Once in the cove, dolphin hunters snare the animals with nets and drag them to shore for the selection process. Dolphin trainers work with the hunters to choose the youngest and most attractive—the ones who will be sold to marine parks and "swim with dolphins" encounters. Pod members try to fight them off and protect one another, but their efforts are in vain. The mother was unable to save her baby.
Those who aren't chosen also face a cruel fate. Hunters—and sometimes even trainers—kill them by hammering metal rods into their spinal cords just below the blowhole. They then remove the rods and replace them with corks to keep the water in the killing cove from turning bright red. Dolphins die slowly and painfully of hemorrhaging or suffocation while watching their family members and podmates die around them. Their flesh is then sold as meat.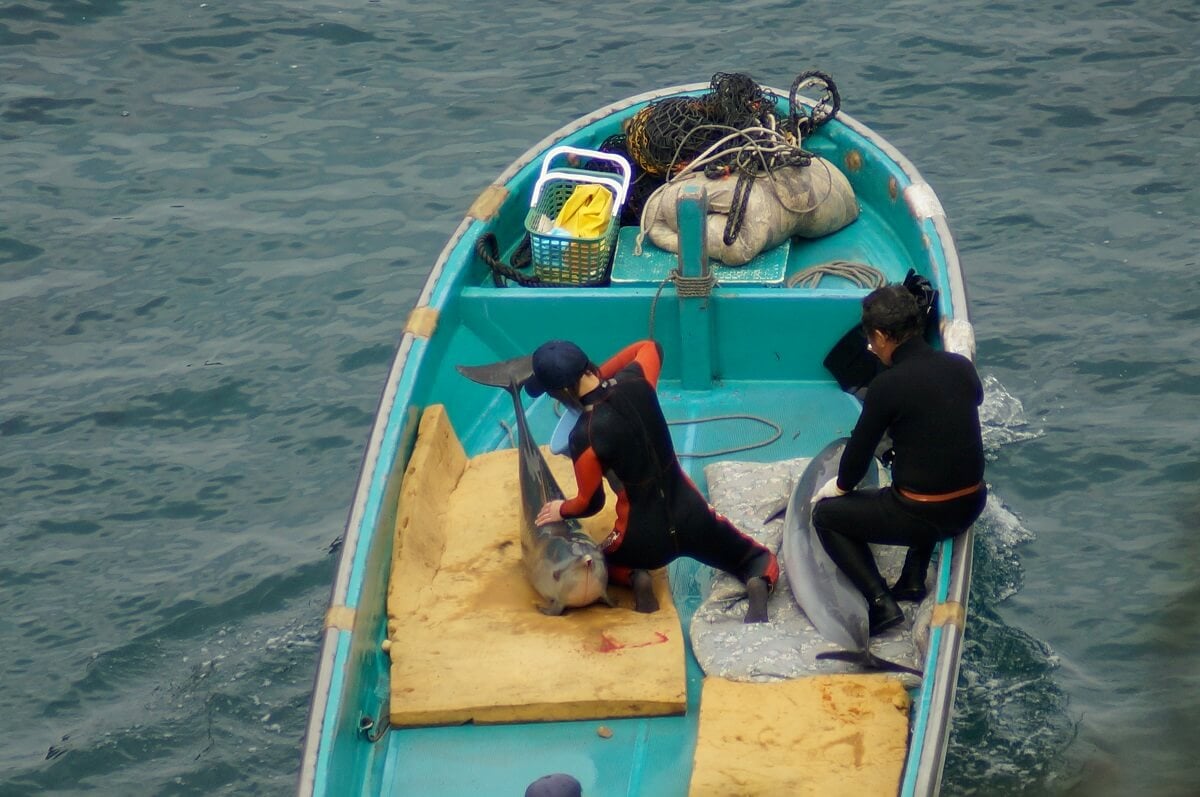 This deadly spectacle takes place only because tourists want to pet dolphins and take pictures with them.
The captive-dolphin industry directly funds the Taiji dolphin slaughter. A single dolphin can sell for as much as $152,000. Even in countries that no longer allow the importation of dolphins caught during the gruesome slaughter, marine parks and "swim with dolphins" facilities can still display animals purchased before the ban. Animals can also be moved through other countries to disguise their origin. And exhibitors that claim not to purchase from Taiji often still have hidden connections to the slaughter.
When humans stop paying to see suffering dolphins performing stupid tricks, swimming in circles in cramped tanks, or hauling tourists around on their dorsal fins, the slaughter will no longer be profitable.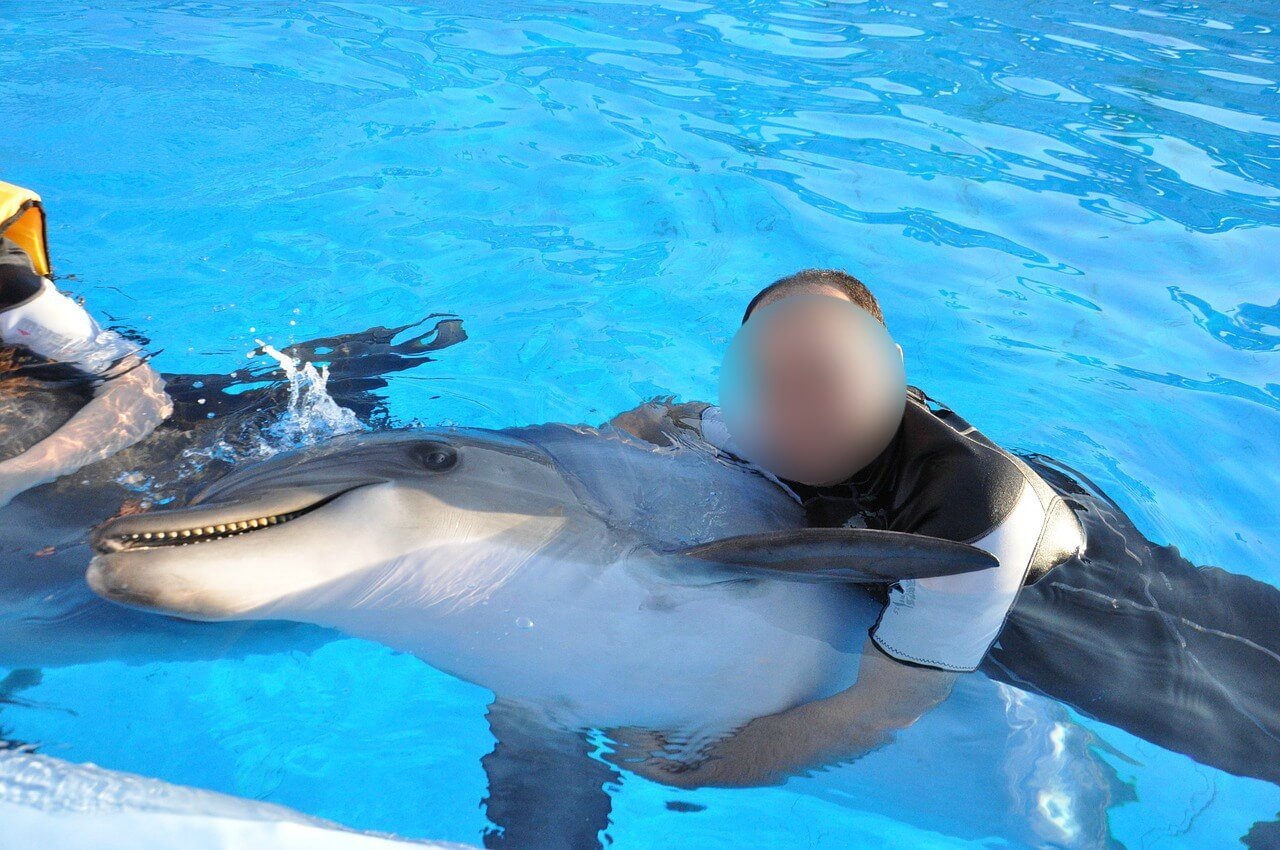 Dolphins deserve better.
Dolphins' brains are much larger than those of humans. (Many would argue their hearts are, too.) These brilliant animals use complex echolocation to navigate the vast ocean, swimming up to 60 miles a day. They have highly developed communication skills, and it's believed that individuals respond to the sound of a signature whistle the same way humans respond to the sound of their names. Forcing these emotionally complex animals to live in tanks for our entertainment is morally bankrupt.
Let's end the dolphin slaughter.
What You Can Do
Ohio just moved one step closer to ending the death penalty!
Last Wednesday, Demetrius Minor, the National Manager of CCATDP,  had the opportunity to join the #NoDeathPenaltyOH campaign at the Ohio Statehouse for a press conference announcing the introduction of the House bill to end the death penalty!
The House bill will serve as a companion to SB 101, which is already moving in the Senate. This bill is yet another sign that momentum is on our side, but we still have more work to do to cross the finish line.
Thank the Bill Sponsors
As Ohio reckons with other life issues this fall, Republican leaders recognize that the death penalty is part of that conversation. It's time to end this costly government program that fails to protect families, puts innocent lives at risk, and only causes more anguish.
Please join the Conservatives Concerned About the Death Penalty in thanking our 15 legislative champions, using this easy action on our website.
Many thanks for all the support you've shown during this endeavor. We couldn't have made it this far without you!
EGYPTAIR Is Again Shipping Monkeys to Their Deaths
EGYPTAIR has apparently gone back on its word and has resumed shipping monkeys to their deaths in laboratories, risking the spread of disease and depleting the world of an endangered species, all to make a few quick bucks. We need your help to stop it.
PETA has learned that the airline appears to have recently shipped approximately 500 long-tailed macaques—listed as an endangered species by the International Union for Conservation of Nature—from the island nation of Mauritius to John F. Kennedy International Airport in New York, all bound for torment in laboratories. Moreover, they were reportedly shipped from a monkey-breeding company that has been in the midst of an outbreak of tuberculosis, a highly infectious disease that monkeys have transmitted to humans.
This shipment is a blatant violation of EGYPTAIR's pledge last year announcing that in view of its support of "the vision and mission" of animal protection organizations, it would no longer transport monkeys to laboratories.
Shamefully, that promise ended up proving worthless.
PETA, Action for Primates, One Voice, and Abolición Vivisección have urged EGYPTAIR Holding Company CEO Yehia Zakaria to honor the company's promise.
But we urgently need you to speak up for monkeys, too.
PETA entities coordinated dozens of actions, and supporters flooded EGYPTAIR with more than 100,000 e-mails and hundreds of telephone calls asking it to stop shipping monkeys to laboratories. It worked until the company's greed overcame integrity and empathy.
It's time we did it again. Please TAKE ACTION below!
Original post:
Thanks to the efforts of PETA, other animal protection organizations, and caring people around the globe, nearly every major airline in the world has stopped transporting monkeys to laboratories. Now, it's time for us to use our collective voices again to let EGYPTAIR know that it has made a very bad business decision by getting involved in the cruel trade in primates for experimentation. We recently received information that 720 long-tailed macaques who'd been torn away from their families in Cambodia were transported to John F. Kennedy International Airport (JFK) in New York on April 30, 2022.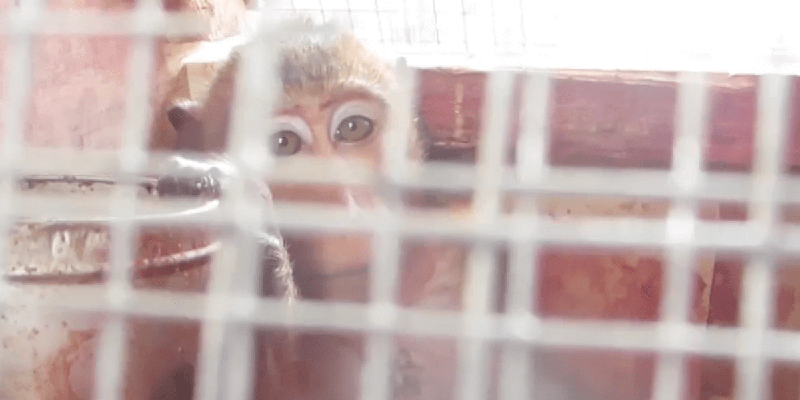 Last year, the U.S. Department of Agriculture cited EGYPTAIR for poor handling and inadequate ventilation and enclosures after a kitten being transported as checked baggage from Cairo to JFK arrived dead. The crate holding the kitten had been covered in solid plastic wrap, preventing airflow. She had not been given any food or water for the 11-hour flight, and her legs, chest, and muzzle were covered with urine. Since March 2022, EGYPTAIR has transported as many as 5,000 macaques to the U.S.—we don't know whether they all survived and can only imagine the conditions they endured.
Every year, tens of thousands of monkeys are transported to the U.S. to be imprisoned in laboratories and tormented in experiments that consistently fail to lead to meaningful scientific advances. These highly social and sensitive individuals are either captured in nature or bred in captivity on squalid factory farms, where many die from injury and disease even before they're crammed into small wooden crates and confined to dark, terrifying cargo holds of planes for shipment around the globe.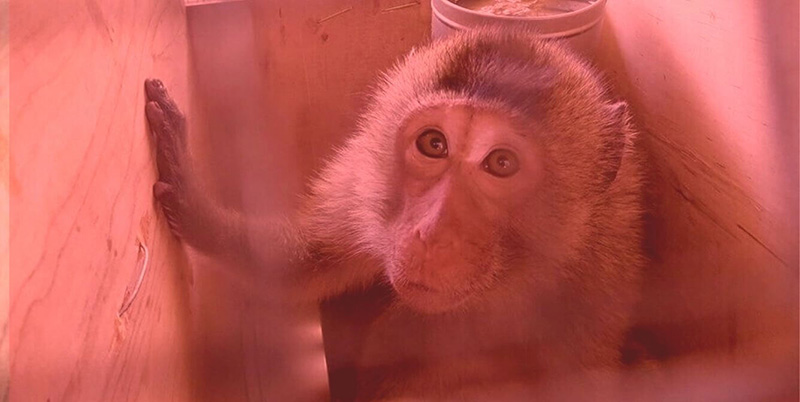 The EGYPTAIR flight landed at JFK in the wee hours of the morning. The monkeys would have been traveling on planes for more than 30 hours. The torturous and deadly journey didn't stop in New York—the no doubt terrified animals were apparently loaded into trucks and driven to quarantine facilities in Texas.
The incentive for airlines to stop shipping monkeys to laboratories is even clearer now, after a truck transporting 100 long-tailed macaques—who had been flown by Kenya Airways from Mauritius to JFK—collided with another vehicle earlier this year. Dozens of wooden crates holding the cold and scared monkeys were thrown from the truck onto a Pennsylvania highway. Several escaped, and authorities confirmed that three were shot dead. Several people who stopped to survey the scene of the accident interacted with the monkeys, and at least one reported symptoms of illness afterward. Given the panoply of pathogens carried by macaques that can be transmitted to humans, it's clear that the international transport of monkeys is not only a serious ethical issue but also a grave threat to public health and safety—including for passengers and crewmembers on these flights. After PETA contacted Kenya Airways with this information, it committed to stop shipping monkeys from Mauritius to the U.S.
We privately urged EGYPTAIR to follow Kenya Airways' lead by ending this practice, but so far, the airline has failed to respond to us. We need your help!
Please send polite e-mails to the EGYPTAIR staff below, asking them not to transport monkeys to laboratories or be involved in this cruel industry in any other way. EGYPTAIR should join other airline industry leaders in prohibiting the shipment of primates destined for laboratories.
Ahmed Shaheen
Chair
EGYPTAIR Cargo
cgo.chairman@egyptair.com
Tarek Adawy
Chief Executive, U.S. and Canada
EGYPTAIR
t.adawy@EGYPTAIRnyc.com
EGYPTAIR Cargo Manager, JFK
newyork_ff@egyptair.com
You're welcome to use the template letter you'll see when you click on the above e-mail addresses, but putting your subject line and message into your own words will help draw attention to your e-mail.
Please feel free to use our sample letter, but remember that using your own words is always more effective.
Harvard Still Funding Fraudulent Colombian Operation—Even After NIH Defunded It
The fallout from PETA's 18-month investigation into the Caucaseco Scientific Research Center, the fraudulent Colombian organization that ran hellholes funded by U.S. taxpayer money, has been sweeping. Its monkey facility was shuttered, and the animals were rescued. They're now recovering under the care of environmental authorities. What's more, Colombian officials found Caucaseco's human trials to be fraudulent. Legislation aimed at preventing this sort of disaster is currently being debated in the U.S., and the National Institutes of Health (NIH) has finally yanked the Colombian operation's funding.
But the more we dig, the more we find.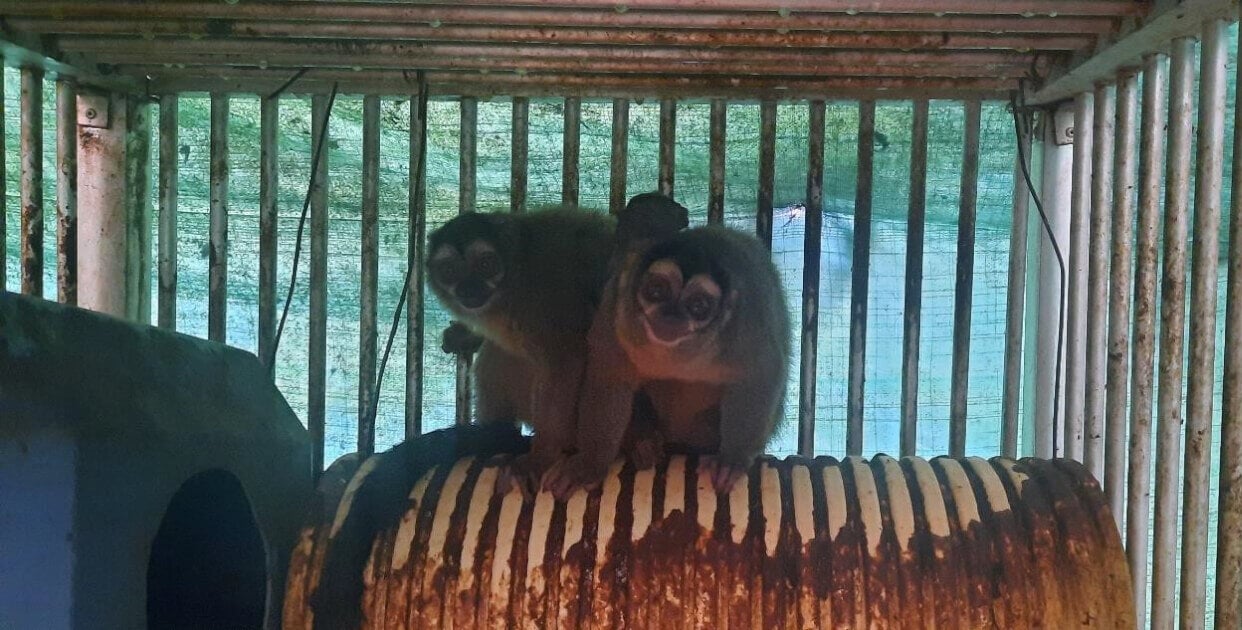 PETA discovered that Harvard University is among Caucaseco's financial backers. The university has had every opportunity to distance itself publicly from the sham operation, but it has declined to respond—even after NIH pulled Caucaseco's funding.
Here's What We Know
Caucaseco is a recipient of Harvard grant money.
The Bill & Melinda Gates Foundation, a national charitable organization, awarded a grant to the university's T.H. Chan School of Public Health, which then turned over part of that money to Caucaseco. Gates Foundation officials have confirmed to PETA that as of May 31, the Colombian operation was a recipient of money awarded to Harvard.
There's More
In August 2022, while monkeys were dying at the Primate Center Foundation—Caucaseco's affiliated monkey facility—a Harvard professor attended a seminar there, just a few feet from the suffering caged animals.
PETA has kept officials at the T.H. Chan School informed of the latest Caucaseco developments and the investigations by Colombian authorities against Sócrates Herrera Valencia and Myriam Arévalo Ramírez, the married couple at the helm of the organization.
We've asked Harvard officials to distance the university from this sham organization, but they've remained silent.
Harvard Parallels Caucaseco's Animal Abuse
Interestingly, Harvard is also home to another monkey experimenter on PETA's radar: Margaret Livingstone, who has sewn baby monkeys' eyelids shut and left the animals in complete darkness for up to a year in gruesome sensory deprivation experiments.
Harvard is also silent about her.
What You Can Do
Please TAKE ACTION today and urge your U.S. representative to support the Cease Animal Research Grants Overseas (CARGO) Act, which aims to end public funding of all foreign animal laboratories so that no U.S. taxpayer dollars are ever again sent overseas for pointless animal experiments.
Then URGE HARVARD to finally cancel Livingstone's abominable cruelty. 
Take Action against all forms of cruelty to animals and wildlife and learn more about alternatives to testing on animals and wildlife. Learn more about the reasons why testing on animals and wildlife is not needed!
Tell Travel Companies to Cut the Bullsh*t and Stop Promoting Bull Torture!
The Running of the Bulls is held every July at the annual festival of San Fermín in Pamplona, Spain. It's a horrific bloodbath in which at least 48 bulls are tortured and killed, and it must end. But travel companies Iberian Traveler, TGW Travel Group, Bucket List Events, Fanatics, and Palace Tours seem to think it's OK to promote this barbaric event by selling tickets to it.
During this event, bulls are deliberately terrified and chased down cobblestone streets. They're hit by people, they fall, they smash into walls, and later they're forced into the bullfighting ring and violently killed.
Bulls have unique personalities and form complex social bonds with each other. The Running of the Bulls causes them extreme suffering, and they never make it out alive.
Please take these important steps to politely urge these travel companies to stop selling tickets for and otherwise promoting the Running of the Bulls.
Text BULL to 73822 to tell travel companies to stop promoting bull torture. Then post this image on social media to encourage your friends and family to text, too: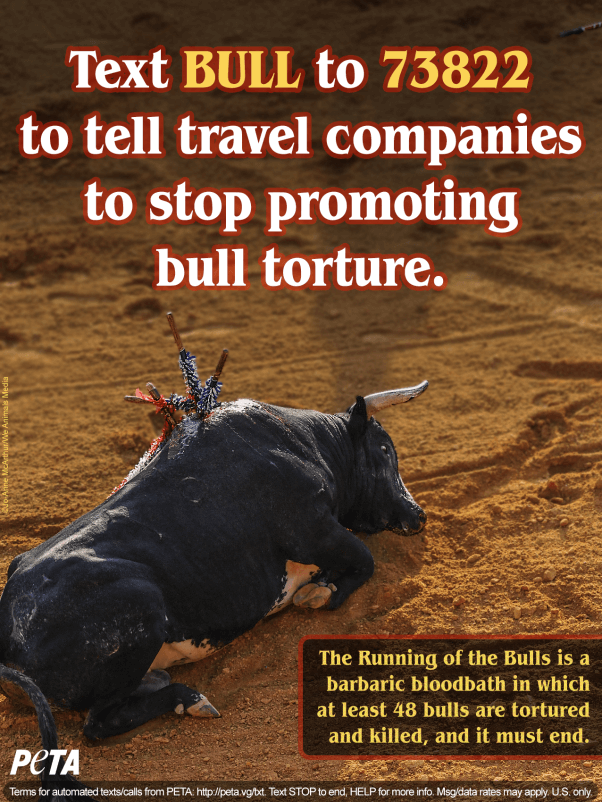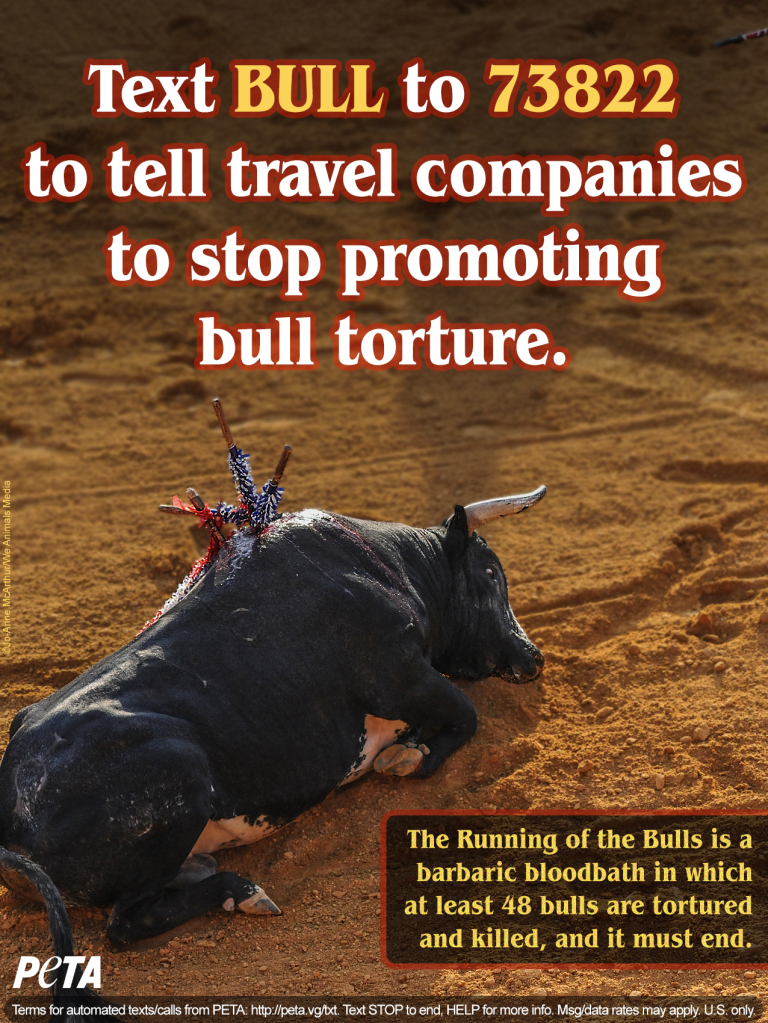 Contact Iberian Traveler using its contact form.
CONTACT IBERIAN TRAVELER
Comment on TGW Travel Group's Facebook and Instagram pages.
COMMENT ON TGW'S FACEBOOK PAGECOMMENT ON TGW'S INSTAGRAM PAGE
Chat with Bucket List Events using the chatbot in the lower right corner of its website. 
CHAT WITH BUCKET LIST EVENTS
Comment on Fanatics' Facebook and Instagram pages.
COMMENT ON FANATICS' FACEBOOK PAGECOMMENT ON FANATICS' INSTAGRAM PAGE
Call Palace Tours at 1-800-724-5120. Here are some talking points you can use:
Please stop selling tickets to the Running of the Bulls. At least 48 bulls are tormented and killed during the event every year. It's a barbaric bloodbath that must end.
Bulls are sentient beings with unique personalities who form complex social bonds, just like dogs. The Running of the Bulls causes them extreme suffering, and they never make it out alive. If you wouldn't promote an event that kills at least 48 dogs every year, why do you promote an event that kills bulls?
CALL PALACE TOURS
Take Action against all forms of cruelty to animals and wildlife!
Once her former owners agreed to relinquish her, we wasted no time spiriting Ada away to our headquarters and gave her a nice long bath and a brand-new haircut. She quickly found the perfect home with PETA staffer Hollie Wood.
As the video shows, Ada quickly formed an unbreakable bond with Hollie's daughter, Eliot, and now the two best friends are inseparable. Ada's always first in the car when it's time to pick her human sister up from school—she can't wait to see her again—and while she may technically count as a senior dog, she happily matches Eliot's youthful energy. Now, Ada's much too preoccupied with school runs, play time, walks, and cuddles to give a thought to her decade of deprivation—and Eliot wouldn't have it any other way.
Dogs Like Ada Suffer Every Day—Here's How You Can Help Them
For 10 years, PETA fieldworkers showed up for Ada to make her life spent chained in a backyard as good and safe as we possibly could. And while Ada is now finally inside a home with people who love and respect her, thousands of dogs are still stuck outside all year round, forced to suffer through scorching heat in the summer and devastating cold in the winter.
You can help "backyard dogs" by sponsoring a PETA doghouse today. Another effective way to help them all year long is to work with elected representatives to pass ordinances that ban or restrict chaining. To get started, see what current legislation on tethering dogs your community has.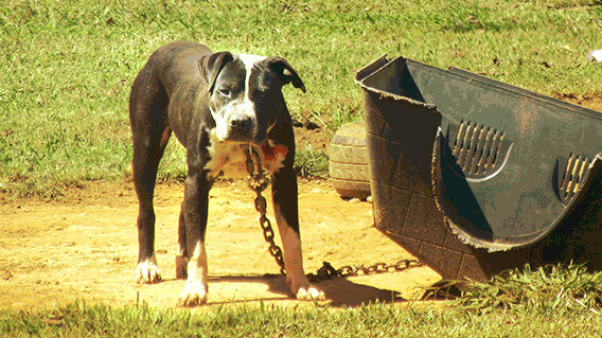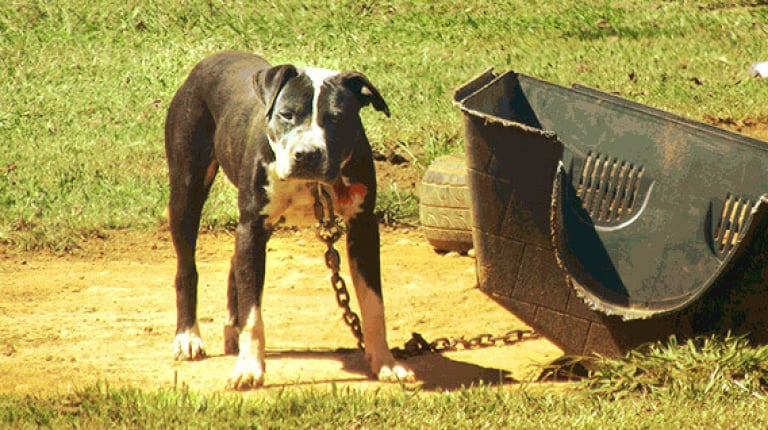 Dogs should never be left outside unattended, but when they're outside and deprived of access to water or shelter, the situation is an emergency and local authorities should be contacted immediately. If they're unresponsive, contact PETA for help. Their well-being, if not their life, could depend on your taking action.
If you see a chained dog in your area whose situation is not an emergency, read PETA's tips to help chained dogs