Victory! Following a complaint from PETA, the U.S. Department of Agriculture (USDA) terminated notorious wild-animal exhibitor Animals of Montana's (AOM) federal exhibitor license on October 6. AOM is owned by Troy Hyde.
In a joyous turn of events, animal rights activists and advocates have found reason to celebrate – a significant achievement that marks a long-awaited victory in the fight against animal captivity and exploitation! The notorious wild-animal exhibitor, Troy Hyde, had operated his business, Animals of Montana, for decades, despite the severe criticism and disapproval from animal welfare organizations. Hyde's business model cruelly confined various wild animals, ranging from tigers to grizzly bears, into small, unsanitary cages, merely to be used as props in film shoots. The investigation into complaints made by PETA eventually led to the closure of this abhorrent operation, one that had caused much outrage and distress. Just recently, on 6th October, the U.S Department of Agriculture (USDA) revoked Animals of Montana's federal exhibitor license. Finally, the animals are free from the clutches of exploitation and can now have a second chance living their lives out in a natural and safe environment. It's a powerful victory that animal rights champions can be proud of!
In June 2023, PETA requested the termination of AOM's license which the USDA began to process in July by filing an order to show cause for its termination. AOM was given 20 days to explain why their license shouldn't be terminated but failed to respond. Their lack of response was taken as an admission of the allegations made against them in the order. The USDA had begun the process of terminating AOM's license due to PETA's request, which was likely based on concerns about the exhibitor's treatment of animals. It is unclear what exactly led to PETA's request, or what actions AOM took or failed to take that led to the termination of their license. However, this decision by the USDA demonstrates the importance of proper treatment of animals in industries that involve their use for entertainment or other purposes.
The process of terminating AOM's license began in July 2023 as the result of a request made by PETA to the USDA. In June, PETA had requested that the USDA terminate AOM's license and was able to see their request come to fruition just one month later. The order to show cause was filed by the feds and AOM was given 20 days to respond, but they failed to do so, which in a sense was considered as an admission of guilt. As a result of their lack of response and actions, the feds concluded that Hyde and AOM were unfit to continue operating as an exhibitor under the Animal Welfare Act (AWA).
The feds determined that AOM would be operating in violation of state and local laws and had been found to have violated state or local laws or regulations pertaining to the transportation, ownership, neglect or welfare of animals. The administrator of the Animal and Plant Health Inspection Service determined that "Hyde's continuous possession of he AWA license would be contrary to the purposes of the AWA." This was a clear message that the AWA should not be compromised in any way, and that animal welfare and protection should always be at the forefront.
Animals in unaccredited captive wildlife facilities such as roadside zoos and game ranches often suffer due to lack of knowledge, resources, and care. With one more exhibitor no longer legally allowed to operate a roadside zoo, this is a significant win for animal-rights advocates and helps end speciesism.
Following a complaint from PETA, the USDA has begun the process of terminating the federal license of notorious wild-animal exhibitor Animals of Montana. This shameless profiteer kept animals in filthy and appalling conditions and repeatedly put them and the public in danger. We urge everyone to avoid supporting seedy operations like AOM by shunning any form of entertainment that exploits animals.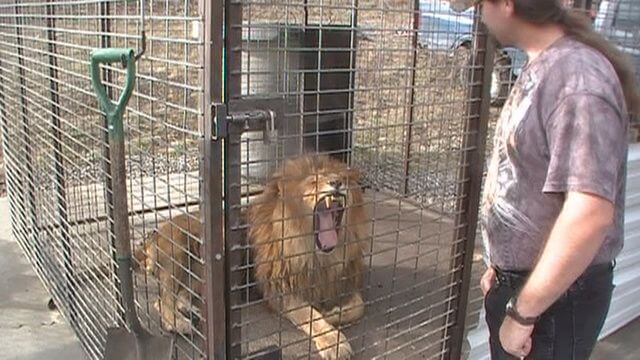 PETA's complaint pointed out that because AOM has violated state and federal laws pertaining to transportation, ownership, neglect, or welfare of animals—including 22 violations of Montana's captive-animal regulations that led to the permanent revocation of the facility's roadside menagerie permit—the USDA could and should terminate AOM's federal Animal Welfare Act (AWA) license. The agency has now taken the first step toward doing so by filing an order to show cause why AOM's license shouldn't be terminated.
For over two decades, the owner of Animals of Montana, Troy Hyde, has trucked animals all over the country to be used as living props in movies and advertisements.
He's racked up a laundry list of animal welfare and employee safety violations, including the following:
Allowing a tiger to escape during a photo shoot, then directing a member of the public to threaten the animal with a weed whacker
Placing employees in dangerous proximity to bears, leading to a fatal attack on a worker
The USDA terminated AOM's license in 2009 for violating the Endangered Species Act and the Lacey Act but granted Hyde a new license two years later. Since then, AOM has accrued 29 more violations of state and federal laws, including the following:
Keeping wolves in unsanitary and severely crowded cages
Failing to provide wolves with drinking water (According to reports, the wolves "were either out of water, water was froze [sic], or what was left in the bottom was brownish-black from saturation by fecal matter.")
Allowing a fisher to escape (The animal was never found.)
Failing to properly secure the cages of potentially dangerous animals, including a bear, a coyote, a bobcat, a Siberian lynx, a black leopard, an arctic wolf, and a gray wolf
Failing to clean a cross fox's cage for several days, leading to the accumulation of "a significant amount of feces"
What You Can Do to Help Animals in Roadside Zoos
Across the U.S., many unaccredited zoos and roadside menageries have long histories of harming animals or otherwise violating the AWA. Bears, big cats, and others at these tourist traps face many hardships: They're often denied proper veterinary care, clean and safe enclosures, and adequate shelter from the wind and extreme temperatures.
Never visit roadside zoos or game ranches that exploit captive wildlife for photo or video shoots.
Take Action to Help Animals in Roadside Zoos
In shabby roadside zoos across the country and at countless other tourist traps around the world, animals are suffering.
Animals held prisoner in pseudo-sanctuaries, traveling shows, and roadside displays are forced to spend their lives behind bars to entertain the public. They endure relentless frustration, neglect, and sometimes even abuse from the people who are supposed to be caring for them. This stress causes many of them to rock, sway, or pace endlessly. Some even resort to hurting themselves by chewing on their own body parts or pulling out their fur or feathers.
Together, we can make a difference for animals in roadside zoos. Keep reading to learn more, or click on the button below to start taking action.