End Elephant Captivity, Elephant Rides, Trophy Hunting & Stop Using Elephants for Human Entertainment
African Parks is a non-profit conservation organisation that takes on the complete responsibility for the rehabilitation and long-term management of national parks in partnership with governments and local communities. We currently manage 22 national parks and protected areas in 12 countries covering over 20 million hectares in: Angola, Benin, Central African Republic, Chad, the Democratic Republic of Congo, Malawi, Mozambique, the Republic of Congo, Rwanda, South Sudan Zambia and Zimbabwe.
Our goal is to manage 30 parks by 2030, the geographic spread of protected areas and representation of different ecoregions makes this the largest and most ecologically diverse portfolio of parks under management by any one NGO on the continent. View the Elephant Databse with All Captive Elephants
African Parks has identified 161 protected areas in Africa that harbour significant biodiversity, sequester carbon, deliver clean air and water, and provide food security for people.
These 161 areas represent nearly a quarter of the total size of all protected areas in Africa. When these areas are effectively managed, they become the foundation for protecting and restoring the broader landscape. This provides functioning ecosystem services and stability from which communities can benefit.
With over 20 million hectares of protected area under its management, African Parks has shown that if holistically managed, nature creates a foundation for thriving ecosystems, stability and wellbeing for both people and wildlife. Together with biodiversity conservation, sustainable economic development, community engagement and education, African Parks' mission is to ensure that each park it manages is ecologically, socially and financially sustainable for the long-term.
Circuses with elephants such as Garden Brothers, Carden International, Shriners, Loomis Bros., and Carson and Barnes all have brutal touring schedules and cover thousands of miles. Some elephants are forced to perform three times per day only to be chained up or placed back into their cramped transport trailers for storage between shows and locations. Circus tracking is vital in documentation of the abuse occurring while on the road. Public awareness is key to ending the suffering elephants have endured for centuries. We can't sit back and allow the abuse to go on. And we won't.
FACE meticulously tracks and documents these circuses through boots on the ground, social media and other means. FACE has successfully gotten many venues to cancel these events once we educate the state and local authorities and the media of the public safety risks and history of animal abuse by these exhibitors. Because of actions like these, the nation is very aware of the atrocities being committed against elephants in circuses. The future of this barbaric industry is coming to an end. FACE is committed and will continue to follow through with helping to place the elephants into Global Federation of Animal Sanctuaries (GFAS). GFAS is the gold standard for sanctuaries.
Elephants, tigers, and other animals that circuses use to entertain audiences do not stand on their heads, jump through hoops, or balance on pedestals because they want to. They perform these and other difficult tricks because they're afraid of what will happen if they don't.
To force animals to perform, circus trainers abuse them with whips, tight collars, muzzles, electric prods, bullhooks (heavy batons with a sharp steel hook on one end), and other painful tools of the circus trade. Video footage of animal training sessions shows that elephants are beaten with bullhooks and shocked with electric prods. Circuses easily get away with such routine cruelty because the government doesn't monitor training sessions and handlers are cautious when they're in public.
Constant Confinement
Circuses travel nearly year-round, in all weather extremes, sometimes for days at a time. While in transit, the animals are confined to trailers or trucks, where they may not have access to basic necessities, such as food, water, and veterinary care. Elephants are chained, and big cats are imprisoned in cramped, filthy cages, in which they eat, drink, sleep, defecate, and urinate—all in the same place. And there's no relief once the animals reach a venue, where they remain caged and are chained in arena basements and parking lots.
Danger to the Public
Frustrated by years of beatings, bullhooks, and shackles, some elephants snap. And when an elephant rebels, trainers can't protect themselves—or the public.
Elephants have bolted from circuses, run amok through streets, crashed into buildings, attacked members of the public, and injured and killed handlers. The elephants have been injured, too, and some have been killed in a hail of bullets.
During a 2014 Moolah Shrine Circus show in Missouri, for example, three elephants escaped from their handlers in the children's rides area after becoming stressed by circus noise. Loose for about 45 minutes, they damaged multiple cars in the parking lot before the handlers were able to regain control of them. It wasn't the first time an elephant had run away from a circus. A few years earlier, an elephant named Viola had escaped from the Cole Bros. Circus in Virginia. She'd bolted from handlers and charged directly past a line of people waiting to buy tickets, sending some sprinting toward the parking lot.
Other animals, such as tigers and zebras, also try to make a break for it when they get an opportunity, running through city streets before being recaptured.
Circus Bans
Because of concerns about animal mistreatment and public safety, a growing number of communities are banning or restricting the use of animals in circuses. And cities all over the country are banning bullhooks.
Animal-Free Circuses
Public demand for cruelty-free circuses continues to grow. James Hamid Sr., a prominent producer of Shrine circuses, has said:
As we look into the future, we see all circuses moving to non-animal productions. Over the last 20 years, both through strict regulation as well as changing public sentiment, performing animal acts have begun to be a thing of the past.
There are loads of exciting and innovative productions that dazzle audiences without animal acts. Click here for a list of animal-free circuses.
What You Can Do
When the circus comes to town, hold a demonstration to inform the public that demeaning stunts performed by animals in the ring are the result of behind-the-scenes abuse. Let your local news outlet know about the suffering that animals used in circuses endure. For detailed information about specific circuses, including U.S. Department of Agriculture citations and dangerous incidents, click here.
Start a campaign to ban wild-animal acts or to amend the cruelty-to-animals ordinance in your community so that it includes language forbidding the use of bullhooks and other manual, mechanical, and chemical devices intended to cause pain and suffering.
Avoid all circuses that use animals. Talk to friends and family members, particularly those with young children who might be especially inclined to go.
For other ways that you can help, check out "Steps to Take When the Circus Comes to Town."
Animals aren't actors, spectacles to imprison and gawk at, or circus clowns. Yet thousands of elephants, bears, apes, and others are forced to perform silly, difficult tricks under the threat of physical punishment; carted across the country in cramped, stuffy semi-truck trailers; kept chained or caged in barren, filthy enclosures; and regularly separated from their families and friends—all for the sake of entertainment. Many of them are even forced to perform until the day they die.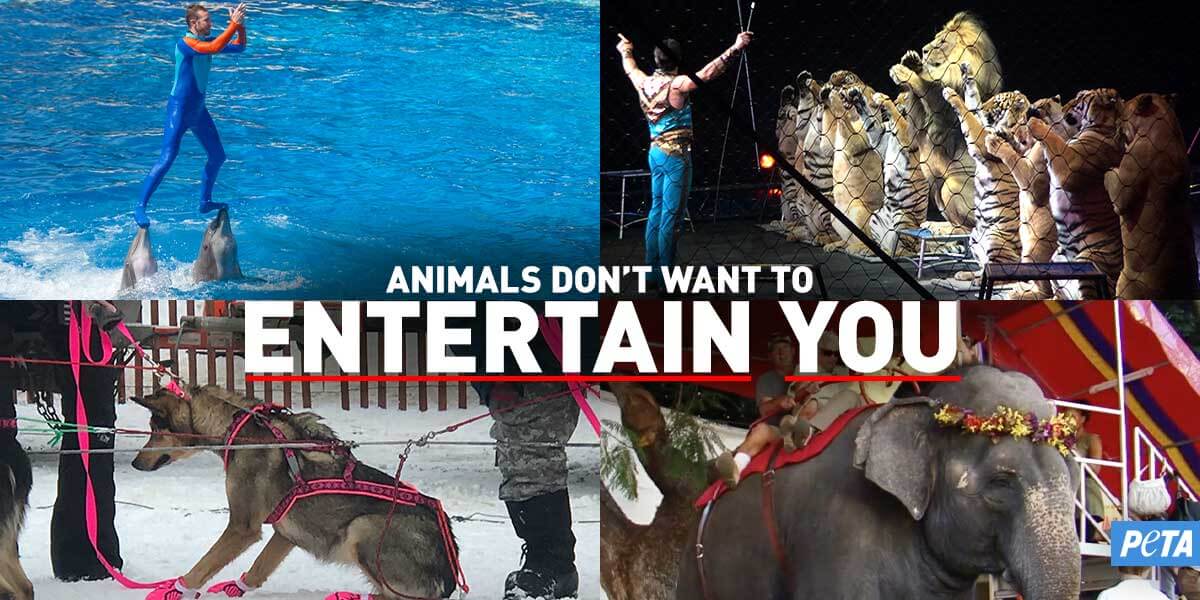 PETA is determined to get animals out of the entertainment business. Our dedicated staff members work full time exposing and ending animal abuse in the entertainment industry, and their work is paying off: Consider the demise of Ringling Bros. circus, for example. In addition to ending circus cruelty, these staff members work with officials to overhaul horseracing rules nationwide, spearhead hard-hitting undercover investigations and public campaigns that are crucial in turning public opinion against animal-exploiting attractions, persuade travel companies to stop selling tickets to SeaWorld and other cruel operations, persuade companies like Coca-Cola to stop sponsoring abusive forms of entertainment such as the deadly Iditarod, persuade entertainment executives not to use animals in movies or TV and to use motion-capture technology instead, chip away at abusive animal exhibitors like the Mobile Zoo, and facilitate the transfer of neglected animals from roadside zoos, traveling menageries, and other seedy facilities to reputable sanctuaries.
PETA'S VICTORIES: ANIMALS IN ENTERTAINMENT
Circus acts featuring only willing human performers, TV shows and films using CGI animals, and interactive, virtual reality aquariums are captivating audiences. Meanwhile, archaic, cruel animal acts are on the decline. Thanks in part to PETA's work, public opposition to horseracing cruelty, marine parks, dog sledding, elephant rides, cockfighting, petting zoos, horse-drawn carriage rides, bullfighting, sport fishing, trophy hunting, rodeos, traveling animal acts, roadside zoos, and safari parks has never been stronger. Animal-free forms of entertainment teach audience members about conservation—something places that imprison and enslave animals, such as SeaWorld, only pretend to do.
What's Wrong With Circuses? And Is SeaWorld Really That Bad?
Animals don't like to put on shows—they're used and abused for the sake of human entertainment. To force bears, elephants, tigers, and others in circuses to perform confusing and physically demanding tricks, trainers use bullhooks, whips, tight collars, muzzles, electric prods, and other painful tools of the trade. Frustrated by years of beatings and confinement, many of them snap—countless animals, trainers, and members of the public have been injured and even killed.
Animals held captive at marine parks or in aquariums don't fare much better. In captivity, orcas and other dolphins swim in endless circles in tanks that, to them, are the equivalent of bathtubs, and they're denied the opportunity to engage in almost any natural behavior. Instead, some are forced to perform meaningless tricks. Most die far short of their natural life expectancy.
The dead bodies of tigers at pseudo-sanctuaries, bears confined to cages and pits, and bulls forced to buck and fight are stacking up, too.
THERE'S ONLY ONE ACCEPTABLE THING TO DO WITH ANIMALS EXPLOITED FOR ENTERTAINMENT: RETIRE THEM TO REPUTABLE SANCTUARIES OR LOVING HOMES.
PETA has helped facilitate such transfers, as in the case of Nosey the elephant—we campaigned for her freedom from the circus for years, and now she's loving her sanctuary home in Tennessee. Charlie, a Thoroughbred horse on the brink of a fatal breakdown, was also rescued by PETA—he now spends his days grazing on grass in a large pasture with his guardian, a longtime PETA supporter and friend. And then there was Tregembo Animal Park in North Carolina, which two local animal advocates represented by PETA's lawyers successfully sued, allowing us to transfer bears Ben and Bogey to a sprawling Colorado sanctuary. Between 2013 and 2018, PETA saved more than 70 bears from cramped pens and concrete hells, helping to transfer them to true sanctuaries where they can finally play, climb, have friends, and raise their families. Some of our rescues have even helped shut down roadside zoos.
How You Can Help Animals Forced to Perform or Fight
These life-changing victories wouldn't be possible without the help of our members and supporters. Each of us can help prevent suffering and deaths by refusing to buy a ticket to watch broken animals languish in captivity or perform stupid tricks, demanding that government agencies like the U.S. Department of Agriculture do their jobs, and urging companies not to do business with animal-exploiting operations.
With the help of our members and supporters, PETA works globally to expose and end the use of animals in entertainment. Some of our efforts include the following:
Conducting groundbreaking undercover investigations and colorful advocacy campaigns to inform the public
Persuading government agencies to hold circuses, roadside zoos, marine parks, and other operations accountable when they apparently violate the law
Encouraging companies to refuse to promote or sponsor elephant rides, tiger encounters, "swim with dolphins" excursions, the Iditarod, or other animal attractions
Advocating for pro-animal legislation
Organizing spirited protests outside businesses and company headquarters to help prevent new animal-exploiting attractions from opening
Calling on roadside zoos and traveling menageries to do the right thing by retiring animals to reputable sanctuaries
Persuading county and state fairs to exclude wild animals from their attractions
This multifaceted approach yields scores of victories for animals imprisoned and used by the entertainment industry around the world.
National Geographic presents
The Akashinga Film: A Wildlife Documentary Everyone Should See
Africa is perhaps known best for its biodiversity and the beauty of its animal species. Yet, many of those species — including elephants — are threatened, endangered or reaching near-extinction levels due to poaching. What is the answer? The answer is Akashinga, an innovative and effective program that harnesses the power of the local community to combat poaching.
Damien Mander — a former Australian special forces soldier — has fought against poaching for years. He founded Akashinga, a team of rangers made up entirely of women who stand up for African wildlife. As the rangers train and learn how to protect elephants, they become stewards of these animals while developing personal and financial security and empowering their communities.
Mander's strategic approach doesn't simply provide guns to stop poachers. Instead, it calls for community involvement and support. If communities could recognize the benefits of protecting and preserving animals and their habitats, poaching could die out without the need for armed confrontations.
Maria Wilehm directed the Akashinga documentary, AKASHINGA: THE BRAVE ONES. This animal conservation documentary explores the innovative program, the courageous women rangers and the noble animals they protect. Three-time Academy Award winner James Cameron executive produced this wildlife conservation documentary, which celebrates the affect that this program has on people, communities, wildlife and the environment. This short documentary is sure to impact everyone who views it.
The International Anti-Poaching Foundation embraces an innovative, effective approach to conservation that empowers women and communities while protecting wildlife and habitats. Learn more about our impact or make a donation today.